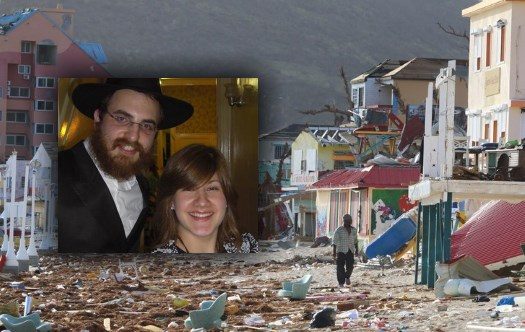 The Chabad Rabbi on the Caribbean island of St. Martin fears American Jews might stay away from the hurricane-stricken island this winter when it needs their support the most.
From the Jewish Chronicle:
The Jewish centre on the storm-battered Caribbean island St Martin is up and running again, after its rabbi found himself in the thick of not one but two hurricanes.
Their first Shabbat dinner at the St Martin Chabad House since Hurricane Irma took place earlier this month.
"There was tremendous energy and everybody told their story from the storm," Moishe Chanowitz, the rabbi who runs the house, told the JC.
"It was a beautiful Shabbat and very exciting to get back in to shape."
Tourists and Americans with second homes on the island, who account for most of the visitors to Chabad, are staying away post-storm, but a crowd of almost two dozen local residents showed up.
Rabbi Chanowitz, his wife Sara and their five children got through Irma unscathed after hunkering down in a ritual bath complex through the worst of the hurricane.
The collection of sacred books used for synagogue and study sessions did not fare as well — and they have 15 large boxes of books, including volumes of Talmud, that are ruined.
"We had two feet of water so all the bookcases are being thrown out and a lot of books are damaged," said Rabbi Chanowitz, adding that the pile is so large that to bury them as required by Jewish law he needs to hire a digger.
"It's upsetting but when you put it against the backdrop that nobody was hurt and torah scrolls are okay, it's not so big," he commented.