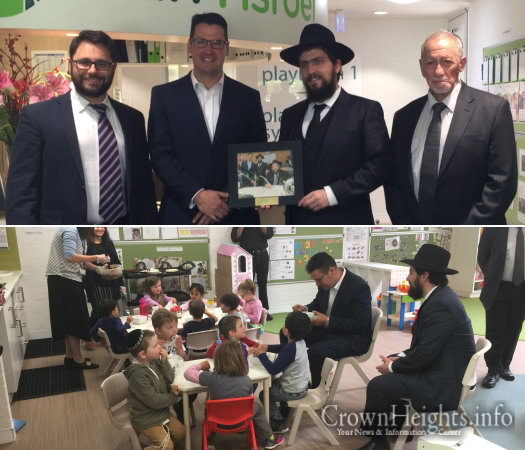 The Hon. Zed Seselja, Federal Senator for the ACT and Assistant Minister for Social Services and Multicultural Affairs, toured the Chabad-run Jewish community centres in Canberra, Australia's capital territory.
The visit of the serving Government minister to the Chabad ACT Jewish community comes after a worrying rise of antisemitism and vandalism directed at Canberra's Jewish community members and buildings in Giralang.
A delegation of representatives from the community's Board welcomed the Senator to Chabad HQ and gave him a tour of the buildings.
Senator Seselja took time to share lunch and have a chat with the children and staff of Canberra's Gan Yisroel Childcare Centre, the only Jewish preschool and child care centre in Canberra. Following the preschool tour, the Senator was showed through the many services that Chabad provides to the Canberra community including the food bank, clothes bank, Kosher shop and Synagogue.
At the conclusion of the site visit, in appreciation of the Senator's support for the community, the community gifted him a framed picture of himself witnessing the completion of the inaugural Torah in Parliament House the fortnight earlier.
Senator Seselja commented how impressed he was "seeing such a truly vibrant multicultural centre and how grateful he was for the work that Chabad ACT, led by Rabbi Shmueli Feldman, does for the community".
He further condemned the recent acts of antisemitism and said it has no place in Australia. As a Government Minister, he stressed that he came today "on behalf of the Government to support the Jewish community and to send a strong message that these types of acts will not be tolerated."
Chairman of Chabad ACT, Rabbi Shmueli Feldman commented: "I am extremely proud that our community receives such unwavering support from the Government as demonstrated by Senator Seselja here today. This gives us further confidence that the Government will not be complacent in combatting antisemitism and will continue to support our community to grow from strength to strength."