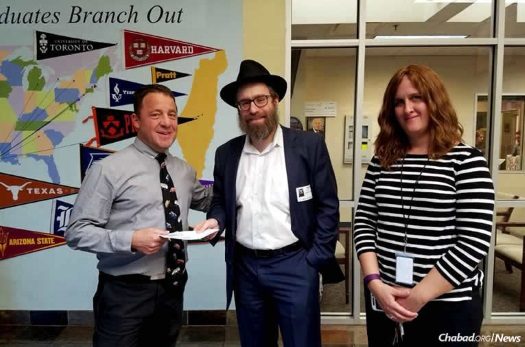 From let: Dr. Paul Oberman, head of school at Beren Academy; Rabbi Chaim Lazaroff of Chabad Harvey Relief in Houston; and Gitty Silver-Francis, MSW, special project coordinator for JFS.
From Chabad.org by Faygie Levy Holt:
With thousands of people still displaced two months after Hurricane Harvey flooded swaths of eastern Texas, leaving heavily damaged homes and property, Chabad of Houston is directing funds raised towards immediate uses.
One of them is Jewish education. To date, more than $120,000 has been provided to help families impacted by the storm pay day-school tuition for their children.
According to Rabbi Chaim Lazaroff, program director for Chabad Lubavitch of Texas, a few hundred families with children in area Jewish day schools have received financial assistance to help offset expenses and more are in the process of applying for aid.
"We wish we could write off everyone's tuition obligations, but that would come to more than $2 million," says the rabbi. "The $500 per child subsidy is to ease the immediate burden on the families, and for many of them, that need is great."
"A lot of families were hit hard by the hurricane and the flooding," says Dr. Paul Oberman, head of school at the Robert M. Beren Academy in Houston. "They were significantly impacted in their ability to function. Tuition isn't something that they can focus on right now when there are so many other pressing needs."
A real concern, of course, was keeping the children enrolled. To that end, some 65 students at Beren have so far received $500 towards school, which has a total population of 300 from early-childhood education through 12th grade.
"It was a happy day when we shared the news with families about the funding," says Oberman, who arrived from Atlanta and took up his position in mid-June, just a month before Harvey. "It is remarkable and transformative; it represents substantial help."
Lazaroff goes on to explain that Chabad chose to allocate money from the Chabad Harvey Relief fund—a project of all 11 Chabad centers in Houston, as well as Chabad of Corpus Christi, Texas—to help with school costs because after such an overwhelming situation, "children need stability, and even more so, a Jewish education. Parents shouldn't have to be making the tough choice of pulling their children out of a Jewish school because they are struggling to pay their immediate bills. Families are feeling the pinch right now."
'Here for the Long Haul'
Some families may eventually start collecting insurance and aid from the Federal Emergency Management Agency (FEMA). "But we wanted to cut the red tape," continues Lazaroff, "and have a check in the school's hands to be able to reduce tuition ASAP," especially, he notes, for those who make monthly payments.
A number of families have received additional funding to help with basic needs, although Houston Chabad officials say it just scratches the surface. Some necessities are not even covered by insurance.
An example? Furniture. "Families need to furnish their temporary living spaces; some are making do with mattresses on the floor," he relates. "We want to help them live with dignity while they repair or replace their destroyed homes, property and personal belongings."
Ultimately, he says, "there are many other projects that can be done, but we need the financial support to make them happen. We're not here for the immediate recovery; we're here for the long haul. Everything is now defined as 'before Harvey' and 'after Harvey.' "
Click here to contribute to Hurricane Harvey relief efforts.