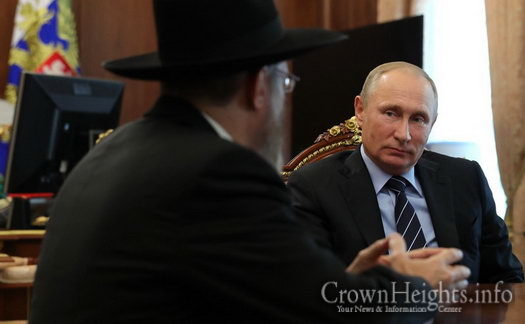 A few hours before the holiday, Chief Rabbi of Russia Berl lazar was invited to meet with the President of Russia, Mr. Vladimir Putin, in honor of the Jewish New Year.
At the meeting, which was also attended by Rabbi Alexander Boroda, President of the Federation of Jewish Communities in the CIS, Mr. Putin took interest in the achievements of the Jewish communities in Russia during this past year. He also promised assistance to various requests from Jewish communities throughout Russia. The Chief Rabbi briefed him about the new communities that were founded, the many new students who have joined educational institutions, and the new Community Centers that were built over the past year in numerous cities throughout the country.
In what has already become a tradition for the past decade, Mr. Putin sent a letter with special holiday greetings to the offices of the Chief Rabbi of Russia, addressed to all Russian Jews. This letter was also published in the official Russian press.
It reads as follows:
Abundant blessings to the Jews of Russia in honor of Rosh Hashana.
Celebrating Rosh Hashana according to the Jewish calendar is an extremely important event in Jewish community life, according respect to the spiritual tradition and culture of the Jewish People. It is gratifying that you share this ancient tradition with the younger generation as well. During the holiday, Jews take stock of their achievements, as well as draw up plans and goals for the future, and take responsibility for the welfare of those who need more assistance and encouragement.
I believe that the Jewish organizations in Russia will continue to contribute to the future by promoting important initiatives in education, study, and charity, initiatives that the public needs so much – and at the same time they will continue to contribute to the enrichment of tolerance and good relations between different religions.
I wish you a good, sweet year, a year of peace and success.
Vladimir Putin
The Federation of Jewish Communities in Russia has completed its many preparations for the holidays, including delivering religious articles to the hundreds of communities scattered throughout Russia, and flying baalei tefila and baalei tekia to assist in various communities throughout the country.