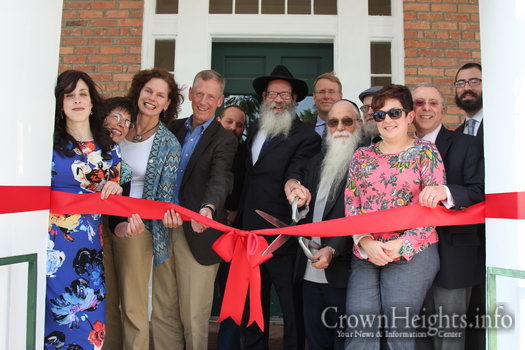 More than 200 people attended the ribbon-cutting and dedication of the new home of Chabad of Bethlehem, NY, a suburb of Albany. The Chabad has restored and moved into the historic Adams House, built in 1838 by town founder Nathanial Adams.
From the Albany Spotlight News:
Celebrants enjoyed hors d'oeuvres and dessert, live music, master illusionist Chris Wheel and children's activities, including a bounce house.
"It was wonderful to see the community join Bethlehem Chabad's building dedication," said Rabbi Zalman Simon. "From a storefront location to now having a building of our own is testament to the growth of the Jewish community."
Simon looks forward to pursuing more community outreach out of the new space and believes that the historic significance of the building will be an asset. Chabad institutions around the world are well known for providing not only outreach, but humanitarian aid, educational opportunities and community activities—both to orthodox and non-orthodox Jews, as well as the broader community. Programming offered at Bethlehem Chabad includes adult classes on Judaism as well as both women's and men's groups, a kid's club and senior services.