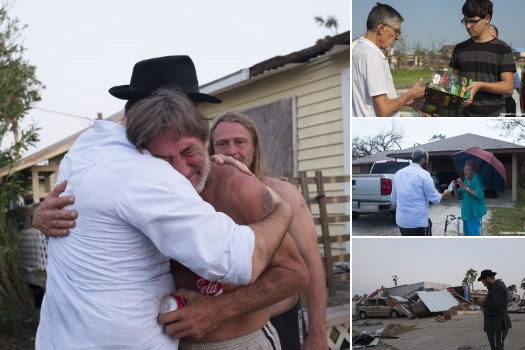 The Day After: Chabad Brings Kindness and Comfort
From Chabad.org by Chaim Landa and Verónica G. Cárdenas:
Hurricane Harvey first made landfall in the Corpus Christi area late Friday, slamming the towns of Rockport and Port Aransas. It continued up through the bay area and into Houston, bringing with it a storm surge of devastating proportions. Homes and businesses are under water. Today, more than 30,000 displaced people are being housed in 230 shelters across the state, and Chabad-Lubavitch of Texas has mobilized to respond to the disaster.
Since the very first moments of the storm, Chabad's network of emissaries—there are 30 in Houston, the Bay Area and as far down as Corpus Christi—have been providing rescue, food, housing and support to anybody affected by the widespread flooding and destruction. They have been joined by hundreds of volunteers, helping to deliver and coordinate assistance around the clock.
On Aug. 31, Verónica G. Cárdenas, a photo-journalist based in the Rio Grande Valley on the south Texas border, documented the relief efforts of Rabbi Naftoli Schmukler, co-director of Chabad Coastal Bend, headquartered in Corpus Christi. Prior to the storm, forecasters had predicted the worst for the coastal region, and Schmukler had evacuated with his wife, Nene, and four young children to McAllen, 150 miles southwest.
Since then, the rabbi has been spending his days and large portions of his evenings in the coastal region, delivering supplies and food, helping to clean homes and businesses, and providing comfort to those who have lost, in some cases, everything.
Readers can donate here to the hurricane relief fund.