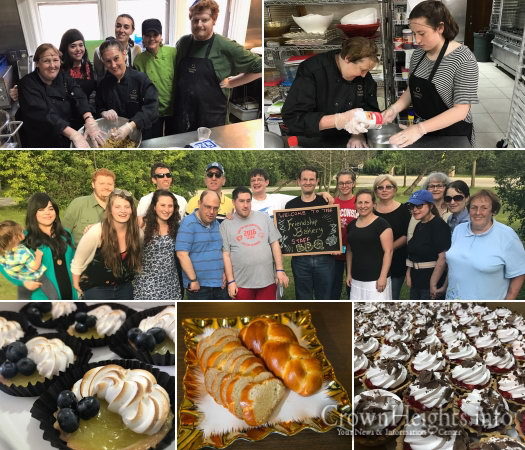 From Chabad.org by Liza Wiemer:
Innovation, education and community—combine these ingredients and something delicious can materialize. Add to the mix students with special needs, a handful of volunteers and a top pastry chef, and the end results wind up in the form of dairy-free pastries, cakes, cookies and challah.
That's what happened with the opening of Friendship Bakery in Wisconsin.
The idea started formulating this past October, when Rabbi Levi and LeahStein, co-directors of Friendship Circle of Wisconsin—a division of Lubavitch of Wisconsin—recognized that adults with special needs were lacking opportunities for hands-on vocational training and the need to feel productive in the working world.
The Steins approached local master pastry chef Dina Menzl-Russo, 50, to teach a comprehensive course that includes the science of baking from start to finish: food safety, preparation, use of utensils, operating the ovens, decorating, packaging and selling within the laws of kashrut.
Then they found a commercial kosher kitchen to use in Milwaukee.
"The vision for Friendship Bakery touched my heart. When this opportunity came along, I had to be a part of it," says Menzl-Russo. "There is nothing I believe that could be more meaningful for me than to take my skills and share them with others in this way."
In its current space, the program is able to provide training for three people each in three separate shifts, who work volunteers. Every task is demonstrated and broken down into steps. Laminated cards include both written and photo instructions. Tasks are repeated over and over again until the skills are learned. From hand-washing to using gloves and hairnets, measuring ingredients and rolling out dough to the proper use of equipment, cleanup, time management and quality control, the course covers every detail necessary to running a successful kosher-bakery business.
Students will be evaluated each month (the bakery just opened in July) for mastering certain skills. A final evaluation comes at the end of the course, when participants will be expected to demonstrate their ability to successfully complete 65 critical skills. Upon passing, they will receive a certificate of completion, along with references for employment.
An extra benefit of the program is giving enrollees the opportunity to earn some money. The amount will be based on a percentage of the profits, allowing students to take additional pride in their work and help the bakery become successful.
"What makes Friendship Bakery unique is how much community plays a role in the success of this endeavor," explains Rabbi Stein. "Volunteers assist the trainees, forming a close friendship and working relationship, and in turn, our community has access to outstanding fresh-baked kosher pastries and breads. It's a win-win for everyone."
Part of a Larger Vision
For the time being, Friendship Bakery operates two days a week. As demand grows, so will the menu options. The amount of time it takes to finish orders is something they're watching closely to keep up with deadlines and timetables. Every week, that factor changes, mainly due to special orders, such as celebratory cakes, added to the regular challah and pastry production.
Beyond the beauty of improving lives, Friendship Bakery gives Milwaukee access to one-pound kosher challahs, custard-filled French eclairs with chocolate ganache, lemon tarts and triple-chocolate cupcakes with buttercream frosting. Special orders may be placed from an extensive list of baked goods, including a variety of cookies and brownies; and custom wedding, birthday or other occasion cakes. They even have the ability to print edible photos or requested designs.
When the baking and boxing are complete, Friendship Circle participants and volunteers make home deliveries within a 10-mile radius for a nominal charge (free if orders are picked up at Crown Judaica in Mequon and Jewish Beginnings preschool in Glendale).
Thanks to the company Express Promotions, students get their own embroidered Friendship Bakery chef jacket, which they're responsible to take home, wash and wear for every class. The owner, Mark Blutstein, has a family member with special needs; he was inspired by the idea and reached out to sponsor the uniforms.
Debbie A., a volunteer from Milwaukee who has a master's degree in special education, loves putting her own apron on and getting down to work. "I have spent a lot of my time volunteering on nonprofit boards and needed a change. I wanted to find an organization that I could make a big difference and see the immediate results of our efforts," she explains. "I looked and looked, but it wasn't until I read the vision for the Friendship Bakery that I found exactly what I wanted to do to bring meaning to my free time. It allows me to utilize my passions for special education, as well as for baking and volunteering. This is an organization I'm proud to be a part of."
The bakery is just part of the overall vision for Friendship Circle of Wisconsin. The next step, according to Stein, is to rent a building.
"But we won't stop there. Our ultimate goal is to build a Friendship Circle Lifetown, where we'll house an art studio and gallery, physical-therapy rooms, areas for arts performances, the bakery and a restaurant. We won't rest until we meet the needs of every child and adult with special needs, their families, friends and the entire community."