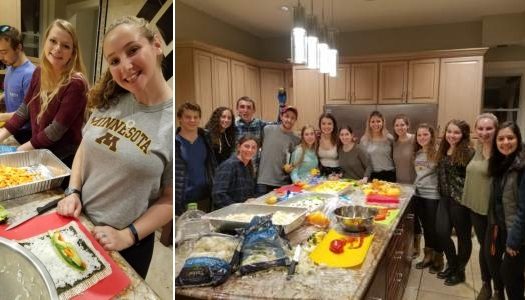 From New Voices by Hannah Bernstein:
Every Friday at 7:30 p.m., University of Minnesota students pile into the Steiner family's Chabad House for dinner. As usual, there is homemade challah and matzo ball soup, but there's also something special – the dinner was made by the students themselves.
That's because of the Kosher Cooking Club, or KCC. Every Thursday, students get together with Chavi Steiner, the rebbetzin, and cook the entire Shabbat meal from scratch. The club began as a small gathering in 2013, but now, the Chabad kitchen has become a recipe testing ground, cooking class, and communal space.
"It feels like I'm cooking in my own kitchen," sophomore Polly Lehman said. "Chavi is so welcoming and open to me and lets me do whatever I want. When I tell her, 'Oh, Chavi, I have the best dessert idea for you,' she says, 'Great, do it. Give me an ingredient list. I'll make sure you have everything.'"
Lehman said she uses cooking to relax and was frustrated when her freshman dorm didn't have a kitchen. Because she didn't have Friday classes, KCC became her way to destress at the end of the week.
"Living in the freshman dorms, I had no outlet to cook," Lehman said. "To be able to start my weekend by relaxing in a place where I'm comfortable and in a place that's welcoming, for me personally, it's just relaxing."
Steiner said KCC's success means that more students feel connected to and comfortable in the Chabad community, even if they lack a religious background.
"People really want to work, and they feel satisfied even if they just cut vegetables for the chicken soup," Steiner said. "They feel accomplished. They feel they did something for the Shabbat dinner. It makes students feel a part of it."
It all began five years ago, just as the Chabad community was forming their first student board.  Steiner said one of those students, now-alumna Shira Lavintman, was incredulous to hear that Steiner was up until one or two in the morning cooking for Shabbat.
Lavintman said there was a group of students on Chabad board who already cooked with Steiner on Thursday nights. Eventually, she realized it had potential.
"(We) would stay and help Chavi cook until ridiculous hours during the night on Thursday, and eventually I was just like, 'Chavi, this should be an interactive, experiential club that we offer to students,'" Lavintman said. "First of all, it will empower people to come and cook with you and then encourage them even more because they're using their hands to actually cook the meal."
Lavintman then proposed the idea of a Kosher Cooking Club, originally titled the Kosher Food Club as a pun on KFC, the popular fast food restaurant. Steiner said she was initially skeptical because she couldn't believe students would be willing to spend a night just cooking.
Click here to continue reading at New Voices.