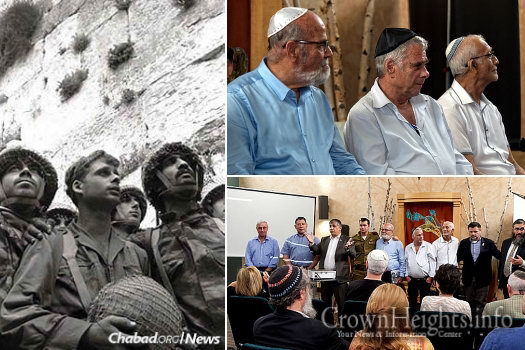 Three former Israel Defense Forces' paratroopers who fought to help liberate the Old City of Jerusalem 50 years ago were honored at Chabad of Northern Virginia with an announcement that more than 200 pair of new tefillin were being donated to Israeli soldiers.
from Chabad.org:
At the outset of the fight for the survival of Israel that came to be known as the Six-Day War, the Israel Defense Forces' paratrooper division was given its primary objective: secure the Egyptian city of El-Arish on the Sinai Peninsula. Then new orders came. Jerusalem was under attack by Jordanian forces, with growing civilian casualties. The paratroopers' new goal was to beat back the Jordanian army and secure the Jewish population under attack in the western part of Jerusalem.
And, if possible, liberate the Old City.
That's what Zion Karasenti, Dr. Yitzhak Yifat and Haim Oshri set out to do, with no foresight that they would become icons of Israeli history. On June 7, 1967—soon after they and their comrades retook Jerusalem's Old City—the young men stood in awe before the liberated Western Wall. The image snapped by David Rubinger depicted a classic moment in time, a piece of storied history recognized the world over.
And while the battles outside and within the Old City walls came at a heavy price—more than 100 paratroopers lost their lives that day—for the first time since 1948, Jews were able to put on tefillin and pray at the Kotel.
Fifty years later, as a tribute to the three men, now in their 70s, and their fallen comrades, Chabad of Northern Virginia in Fairfax, co-directed by Rabbi Sholom Deitsch, announced a gift of more than 200 pairs of new tefillin to modern-day Israeli troops. And they arranged an event at the Chabad House in Fairfax to acknowledge these heroes as they made their way around the United States as part of a seven-city tour recognizing the war's anniversary year.
Initially, the idea was for Chabad to secure donations for 50 pairs of tefillin, but the community responded so quickly that the Friends of the IDF—a leading international organization offering material assistance and support to Israeli soldiers—agreed to match that with another 50 pairs.
Then Rabbi Menachem Ofen, of Tzerei Augudat Chabad Headquarters in Kfar Chabad, Israel, heard of the plan. He works with soldiers and is distributor of religious contributions that go through Friends of the IDF, and knew a contributor who offered to match all these tefillin for a total of 200 pairs.
'Outpouring of Support'
Nearly 300 visitors attended a June 18 event, complete with brunch, at Chabad of Northern Virginia to recognize the soldiers, who told their stories in both Hebrew and English.
"We knew the event would be a great inspiration to all who attended and beyond," Deitsch told Chabad.org, noting the 50th-year anniversary since the Rebbe—Rabbi Menachem M. Schneerson, of righteous memory—initiated the worldwide Tefillin Campaign.
Alex Pomerantz, director of the Virginia Chapter of Friends of the IDF, said he was "overcome with joy" seeing nearly 300 people come out to hear the amazing story of these Six-Day War heroes. "It is inspiring to see such an outpouring of love and support from the local Jewish community for the brave soldiers who defend Israel."
Also in attendance for Friends of the IDF national director and CEO Maj. Gen. (Res.) Meir Klifi-Amir, and Ari Dallas, executive director of its Mid-Atlantic Region. Co-hosts of the event included Rabbi Mordechai Newman, co-director of Chabad Alexandria-Arlington; Rabbi Leibel Fajnland, co-director of Chabad-Lubavitch of Reston and Herndon; Rabbi Yechezkiel Deitsch of Chabad Tysons Jewish Center in Vienna; and Rabbi Shmuel Perlstein, co-director of Chabad of Greater Gainesville & Manassas, all of the Northern Virginia area.