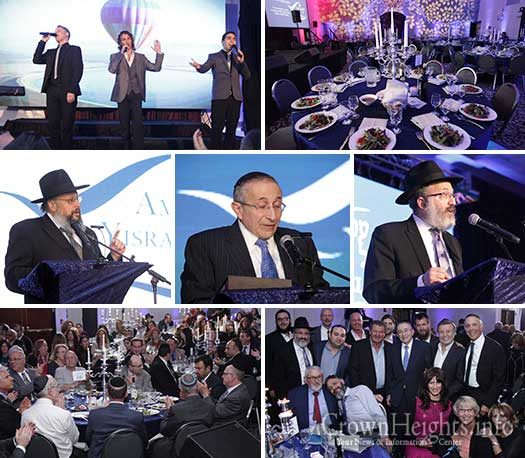 Chabad of the Valley marked their annual Banquet Gala with a special keynote address by Rabbi Marvin Hier, the found of the Simon Wiesenthal Center. A moving tribute was paid to Rabbi Joshua B. Gordon OBM, founder of Chabad of the Valley.
Rabbi Marvin Hier, founder of the Simon Wiesenthal Center delivered the keynote address at Chabad of the Valley's Banquet Gala. Rabbi Hier had recently returned from Israel, where along with Philanthropist Michael Steinhardt, he became the first non-Israeli citizen invited by the government to light the torch of the official ceremonies marking the 50th anniversary of the liberation of Jerusalem.
Rabbi Hier, noted for his powerful oratory, paid tribute to Chabad and the Lubavitcher Rebbe's remarkable accomplishments sending lamplighters across the globe. Rabbi Hier highlighted the impact that Chabad had made on rekindling the Jewish soul of countless people. 
The Banquet Gala showcased a special performance by multi-national pop-opera group Kol Esperanza on their West Coast tour as part of a tribute to the 50th anniversary of the Liberation of Jerusalem and the miracle of the Six-Day war, including  a riveting documentary underscoring The Lubavitcher Rebbe's widely publicized Tefillin campaign.
In his opening address, associate Director of Chabad of the Valley, Rabbi Mordechai Einbinder welcomed participants and reflected on the fact that the very essence of the evening and everything it represented was homage to the beloved founding Shliach and visionary, Rabbi Joshua B. Gordon, of blessed memory, stating "as I look around the majesty of this room tonight, I see him and I actually feel his presence". In a spontaneous and powerful moment, almost four hundred people in the room rose from their seats and a poignant standing ovation followed. 
In another segment of the night, Rebbetzin Chana Herzog thanked Rebbetzin Gordon for her continued dedication and devotion. Following this, she presented a special gift to holocaust survivor and global philanthropist Sol Teichman, describing Sol and his wife Ruth as "true legends and heroes in our times" and thanking them for their friendship, kindness and inspiration.
The evening went on to underscore the great miracles that took place in 1967 and the wide implications it had for world Jewry. Participants also paid tribute to three members of the community who were veterans of the Six-Day war and acknowledged the many others in the room who had also served in the IDF.
The event was produced under the direction of Jonathan Herzog, Rabbi Mayer Greene and Rabbi Yochanan Baitelman.