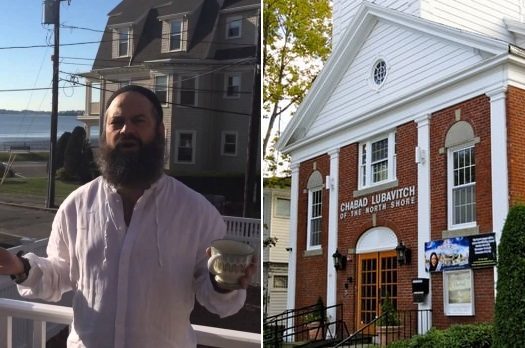 Left: Rabbi Yossi Lipsker. Right: Chabad of the North Shore, MA.
For the first time in decades, a new mikvah is being constructed on Massachusetts' North Shore. Last week, workers poured the foundation for a Mikvah that will be built behind Chabad Lubavitch of the North Shore, led by Rabbi Yossi Lipsker.
from the Jewish Journal:
"The mikvah will be a transformative catalyst for renewal and spirituality on the North Shore," said Chabad's Rabbi Yossi Lipsker, who is overseeing the mikvah project, and expects it to open just before Rosh Hashanah. "Judaism uses water to denote change and transformation, and a mikvah has the power to transform not only the individuals who use it, but the entire community. We invite people to be a part of this exciting new sacred space that will bring renewed spiritual energy to our Jewish community."
The mikvah marks another milestone for Lipsker, who arrived in Swampscott 25 years ago, and has gradually expanded Chabad. In 1992, he set up a small sanctuary and Hebrew School over a convenience store and eventually moved the synagogue to its current home on Burrill Street. He also helped set up Chabad in Peabody, and his outreach extends through Marblehead, Salem, Lynn, Everett and other North Shore communities.
According to Lipsker, the project has taken five years to reach the construction phase, and the estimated cost will be $360,000. "We are fortunate to have received a $100,000 grant from Mikvah USA and a large gift of $100,000. We still need to raise the remaining $160,000 and are well into that campaign," he said. Lipsker said Richard and Dotty Tatelman purchased the property where the mikvah is being built.