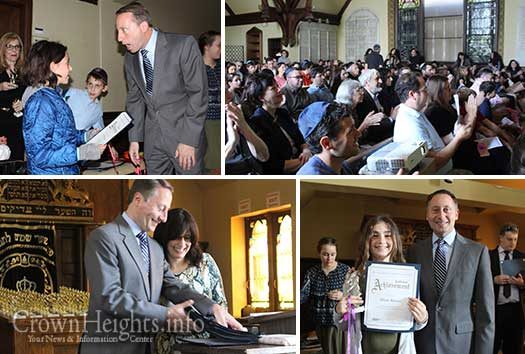 Hebrew School students of Chabad Hebrew School of Westchester, located in New Rochelle, NY, enjoyed an exciting surprise as Westchester County Executive Rob Astorino attended the celebration.
A crowd of family and friends gathered for the annual ceremony in the Chabad House. Shlucha Rochel Butman addressed the crowd, speaking to the students and commending them for their amazing achievements over the past year.
Mrs. Anne Wasserman represented the local community and presented the students with trophies as well. Rabbi Avrohom Butman, of neighboring Chabad of Scarsdale, welcomed the County Executive.
County Executive Rob Astorino, a Republican, holds the top government position in Westchester.  He ran for governor of New York in 2014, but lost to incumbent Andrew Cuomo. He is also the founder of 1050 ESPN radio.
Mr. Astorino presented each student with their "Aleph Champ "awards, which recognizes the students' advancement in their study of Hebrew language. He personally congratulated each child as well in his signature warm and friendly manner.
Chabad Hebrew School is grateful to have finished another successful year with 80 students and 8 teachers under the leadership of Assistant Director Musia Butman and the Chabad teachers, who come from far and wide, including Italy, Canada, South Africa and all over the US.