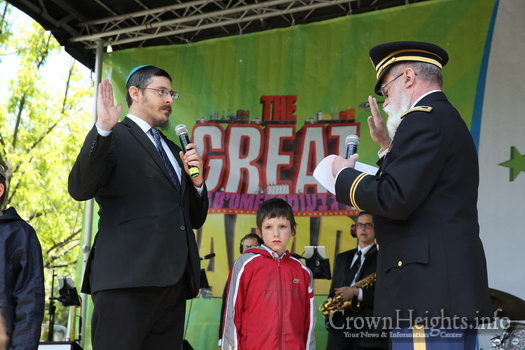 A Chabad Shliach has joined the U.S. Army as a chaplain, and in the first event of its kind, held his "swearing in" ceremony at the Lag BaOmer parade amid the marching and dancing.
Rabbi Yossi Madvig, director of Chabad of Oswego, New York, recently joined the United States Army Reserves as a chaplain. As part of his enlistment he took the Oath of Allegiance in a swearing in ceremony amid the celebrations of Lag BaOmer
Officiating his swearing in was U.S. Army Col. (ret.) Jacob Goldstein, together with their right hands raised he affirmed the oath to the Army and to the United States.
"It is great that we increase the ranks of the U.S. Army chaplaincy," said Col. Goldstein. "As we move forward it is my hope that more Lubavitcher Chassidim will look to join the military ranks."
Rabbi Madvig is the second Chabad Shliach to join the U.S. Army reserves, he joins Rabbi Elie Estrin who is serving as a chaplain in the air force reserves since 2014.
Completing his swearing in, he now awaits his orders and will then go for training.