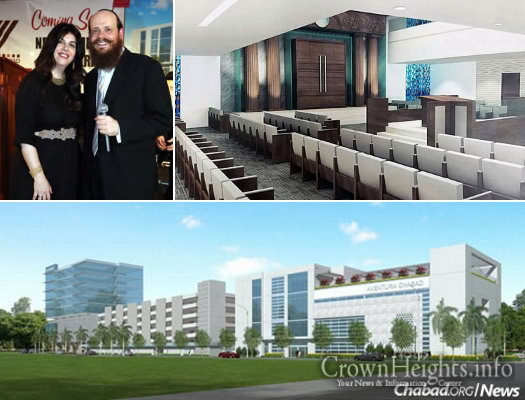 A groundbreaking ceremony was recently held for a new $14 million Chabad center in Aventura, Florida.The center is expanding to meet the needs of a growing community, a large percentage of them recent arrivals from South America.
from Chabad.org by Karen Schwartz:
George Hanz remembers being warmly welcomed to Chabad in Aventura, Fla., back in 2002. He and his wife, Denisse, who immigrated to the United States from Venezuela two years earlier, were introduced to the rabbi by a friend and liked him from the moment they met. They wound up buying a house nearby, and with their three children have been involved ever since in services, classes, Hebrew school and holiday events.
The suburb of Aventura (the Spanish word for "adventure") on South Florida's East Coast, about 18 miles north of the city of Miami, has grown in leaps and bounds in the past decade, with a rise in the number of kosher restaurants, supermarkets and shops serving an increasingly diverse Jewish population. And Chabad has flourished right along with it, Rabbi Laivi Forta, co-director of the Chabad House with his wife, Chani, tells Chabad.org.
They hold both Sephardic and Ashkenazi minyanim, in addition to a rich roster of learning and social activities. As the local Latin population increased, Chabad also started offering services, classes and books in Spanish, adds Forta, working to make Jewish life as accessible as possible to the Spanish-speaking community. On holidays, he notes, Sephardic worshippers spill out of tents erected outside for the overflow crowd.
Soon, there will be enough room for everybody, with a new building in the works set to have sanctuaries for Ashkenazi and Sephardic services, a mikvah, state-of-the-art social hall, preschool, library, daily chapel, study rooms, classrooms for kids and administration space. Part of Chabad's existing land will be used for an office complex, whose tenants will help offset construction costs.
The community is working to raise the $14 million for the project. "People are getting very involved; they're very excited," says Hanz. "You feel new energy coming into the shul."
He adds that the preschool—in response to high demand and licensed to accommodate as many as 100 children—will draw in a whole new generation: "The kids are what keep the shul growing all the time."
An influx of families to the area added the urgency for a preschool, says the rabbi, who has served the Aventura Jewish community for nearly 20 years, moving from a trailer to a building and now into the next phase. "It's become predominantly a young community, so it became apparent almost immediately that we need to do this," he says.
The four-story, 44,000-square-foot facility is expected to be completed in May 2018. Forta says the plan is to build at the end of the existing property, then move in and have the old building demolished, erecting in its place an office tower and six-story parking structure.
'Like a Vitamin'
Rabbi Avraham Peri, who has lived in Aventura since 2008, has been coming to Chabad for the past two years. "After visiting many synagogues, I finally decided this is the place," he says. "Why? Because the prayers here are very, very serious. They say word after word with a lot of intention, and this causes participants to pray with a lot of focus and reverence. I thought to myself, here are the kind of people I want to be close to."
He says he also enjoys the rabbi's talks and the inspiration they provide, as well as the general camaraderie of congregants. "There's a Kiddush on Shabbat, a wonderful Kiddush. Everyone speaks to each other; there's such warmth and good spirit," says Peri, an Israeli who with his wife, Esther, spends nine months of the year in the United States and the other three in Israel, where his four children, 14 grandchildren and great-granddaughter live.
Forta credits the convivial atmosphere to the founders of Aventura Chabad, his in-laws Rabbi Casriel and Zipora Brusowankin, who arrived in South Florida in 1970, serving Jews in North Miami for more than 40 years.
Like the rest of the community, Peri is excited about the new development. "It's like a vitamin," he says, that will enrich the Jewish health of Aventura. The groundbreaking back in December brought hundreds out for the ceremony, including the Mayor Enid Weisman and other local officials.
"It's what we need," says Peri, who teaches Torah at Chabad during the week, looking forward to more space, more classes, more of everything, including a boost in Yiddishkeit. "With such a building—such a great impressive building—people will come and enjoy."