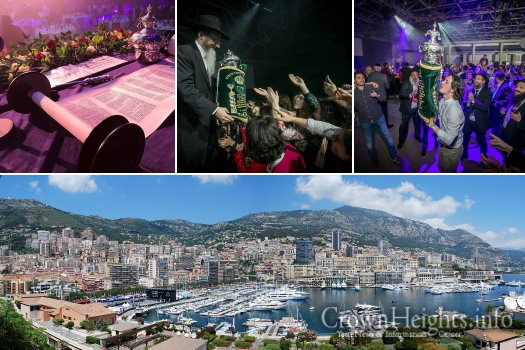 Tiny Monaco Has Largest-Ever Jewish Gathering
The micro-nation of Monaco, which is sandwiched between France and the Mediterranean Sea, saw the largest Jewish gathering in its history during a visit to the principality by more than 1,000 Jewish students from the Former Soviet Union (FSU).
The celebration Thursday, which was hosted by the tiny Jewish community of Monaco, was organized by one of its leaders, Aaron Frenkel, along with Shliach to Monaco Rabbi Tanhoum Matusof, and Russian Chief Rabbi Berel Lazar, as part of the Eurostars program of Lazar's Federation of Jewish Communities of Russia.
Launched in 2012 by Chabad rabbis in Russia, the Eurostars program annually brings hundreds of young Russian Jews on subsidized trips to Western and Central Europe to strengthen intercultural ties between Jewish communities. All trips include a visit to the Auschwitz-Birkenau former death camp in Poland.
Monaco, which has only a few hundred Jews, was selected as a destination this year for the first time so that the participants "can see how, even in a small community, it is possible to celebrate one's Jewish identify openly," Lazar said.
The local Jewish community warmly welcomed the group of over a thousand young Jews from Russia and the neighboring countries and its representatives joined the celebration at Monaco's Congress center. The event was also attended by Monaco's government minister Mr. Serge Tell, the president of Monaco's Jewish community Mr. Aharon Frenkel, rabbis, prominent social and political figures.
The celebration became the largest Jewish gathering in the country's history. "The local community invited us in order to underline the solidarity of Jewish communities across the world," said chief rabbi of Russia Berel Lazar at the ceremony. "Torah and our heritage unite the Jewish people and we want to do everything possible so that young generations of Jews from the FSU will be proud of their roots," he said.
During the ceremony all the EuroStars participants could purchase a letter or a verse in the new scroll for a symbolic price. The scroll will return back to Russia with the participants and will be kept at FJC's YAHAD's headquarters for youth programs' needs.
"It is great to see that you understand the importance of reviving community life, respect and treasure our heritage and try to share your knowledge with other Jews," said the president of FJC Russia Alexander Boroda addressing EuroStars participants at the event.
The event was widely covered by the local and international press as well as Russian media, which saw it as a way of bridging the differences between Russia and Europe.
EuroStars trip will conclude this week in Poland, where the group will engage in special commemorative programs at the site of Auschwitz concentration camp.
Photos courtesy of FJC.ru