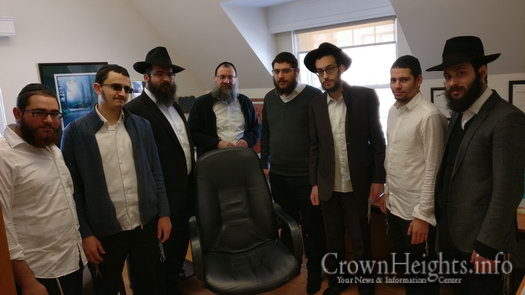 A group of Bochurim studying for Semicha and doing Shlichus at Chabad of Cote St Luc, Montreal, recently visited Chabad Lifeline in order to be empowered and educated about the needs of their communities when they eventually head out on Shlichus.
Chabad Lifeline is a Chabad House in Montreal founded by Shliach Rabbi Ronnie Fine in 1989, and directed by Shluchim Rabbi Benyamin and Karen Bresinger, whose stated mission is to help everyone affected by addiction. People suffering from substance and behavioural addictions and their family members are guided through the process of healing and recovery.
The visit was organized after Rabbi Shmuel Shuchat, who heads the Semicha and Shlichus program in Cote St Luc, attended a presentation delivered to Montreal's Shluchim by Rabbi Bresinger.
"We are privileged to have a Chabad House here in Montreal that deals with addiction and mental health," Rabbi Shuchat said. "The visit was important because the Bochurim got to learn about what they may face when they eventually go out on Shlichus, and how they should approach it."
"I think that the impact of a Shliach in any community is greatly enhanced by serving as a Mashpia for your Baalei Batim. You need to be able to know who you're dealing with," stressed Rabbi Bresinger. "And if you're dealing with someone and there's addiction or any illness, it doesn't mean the relationship should be any less close. On the contrary."
"It's Hashgacha Protis," he continued. "Here's someone sent your way, who has addiction, mental illness or physical illnesses. It's not that you should be the expert, but you should be able to create a safe place and relationship where they are comfortable confiding in you. You could help make Shidduchim with local professional resources."
The Bochurim Shluchim were given a tour of Chabad Lifeline's three storey complex, located on the campus of the Jewish General Hospital, with whom Lifeline works with on a regular basis. He led them through each office, and briefly described what role each of the 10 members of the team does. Then, Rabbi Bresinger delivered a presentation on addiction, defining it and encouraging the Bochurim to create a relationship where a Baal Habos will want to confide in the Shliach.
"When someone reveals to you something they've never revealed to anyone else, it can be life changing and life saving," he explained.
According to a recent study titled "Closing the Addiction Treatment Gap," approximately one in every 10 Americans over the age of 12 – roughly equal to the entire population of Texas – are addicted to alcohol and drugs. That number rises when one includes process addictions such as gambling, eating, gaming, internet, and inappropriate behaviour.
"You need to let it be known that you're a rabbi who is open to the problems of the world, recognizes that they exist, and that you are here for people struggling with addiction, providing non-judgmental support," Rabbi Bresinger said. "You should speak openly about addiction so that the families who don't talk about it because it's stigmatized will feel more comfortable opening up."
Rabbi Bresinger discussed the importance of developing relationships with professionals who can serve as resources for addicts. He often receives phone calls from Shluchim across the globe asking for advice after Baalei Batim open up about their vices and addictions, and has developed a sense for which organizations and professionals are trustworthy in this area, not only for the addicts themselves, but also to provide support for their children, spouses and parents.
He also stressed the importance of not only being a Mashpia to Baalei Batim, but getting your own Mashpia.
"The directive of Asei Lecha Rav is not just about having someone to call with Kashrus issues, but also to find someone who knows you so well that there are no secrets between you," said Rabbi Shuchat. "The same way people in your future community need to open up to you, you need to open up too."
Following the visit, the Bochurim Shluchim reflected on what they had learned. "It was eye-opening for us as Shluchim," said Israel Assouline, a Paris-born Bochur in the program where they do Shlichus work while studying for their Semichah. "We walked away from there with a practical understanding of how to make the world a better place, in dealing with all segments of the community."
"It was a very important visit and relevant for people going out on Shlichus because if you don't know about things that can be going on with people in your community, it can be damaging without you realizing," added Rabbi Shuchat.