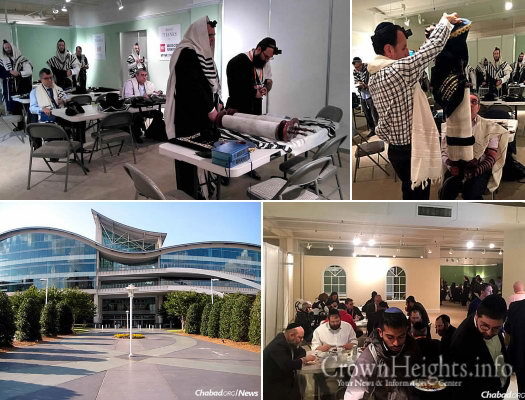 by Menachem Posner – Chabad.org
It's been 31 years that Blair Jonas, a furniture wholesaler from Minneapolis, has been attending the semi-annual International Home Furnishings Market in High Point, N.C., a city that has been called the "Furniture Capital of the World."
This spring, the market's opening day on April 22 took place was just one day after Jonas would finish saying Kaddish for his father, who passed away nearly a year ago. Since Kaddish can only be recited in the presence of a minyan (a public prayer quorum of 10 Jewish men), it seemed as if Jonas would have to decide between the market or honoring his father's soul.
Fortunately, he didn't need to make that choice.
Since 2012, Rabbi Yosef and Hindy Plotkin of Chabad-Lubavitch of Greensboro, about a half-hour away, have been operating a pop-up Chabad center amid the 11.5 million square feet of show space that attracts more than 75,000 attendees from 100 countries.
"For these few days, there is a center of Jewish life out in High Point," marvels Jonas. "They really provide a great service. You come to market, and they have everything you need. The kosher food is there, the Torah is there—they have all the ingredients for Jewish life."
As many as 100 Jews gather daily for dinner (breakfast and lunch are also served), with many more stopping by to put on tefillin, schmooze or hear a quick Torah thought before running off to a meeting.
Open Home on Shabbat
The Plotkins have been operating a similar Jewish oasis for the past two years at the Showtime Market, which serves the textile industry.
Jonas ended up saying Kaddish on Friday morning at the Plotkin's market space and his final Kaddish that afternoon at the Chabad Housein Greensboro (it was already close to Shabbat, and there were not enough Jewish vendors present to complete the quorum at the market).
The Plotkins regularly open their home on the Shabbat coinciding with the market—considered the largest home-furnishings trade show in the world, traversing 180 buildings and covering every aspect of the industry—so that Jewish visitors can enjoy a much-needed 25-hour respite from the constant bustle related to the event.
To help them serve market visitors, the Plotkins enlisted three rabbinical students this year who staff Chabad's space, and visit Jewish vendors and shoppers, offering them a chance to put on tefillin and share Torah thoughts.
"We are busy from early morning to late at night," says Shlomo Sitora of Brooklyn, N.Y. "Everywhere we go, we meet people who are so excited to see that Jewish life can be found here at High Point."