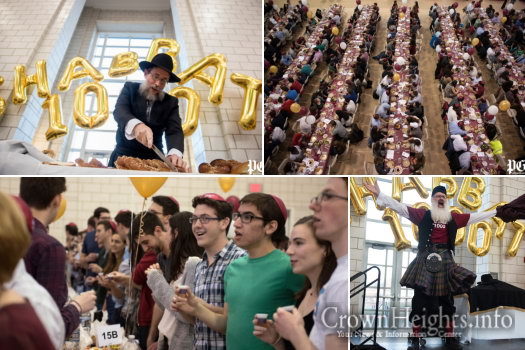 from Lubavitch.com:
One thousand students, faculty, administrators, and alumni from ten Pittsburgh-area universities celebrated Shabbat at Carnegie Mellon's Wiegand Gymnasium on the weekend of March 24.
After months of preparation, fundraising (the program's budget exceeded $30,000), and publicity for Shabbat 1000, as the event was billed, and against the backdrop of recent anti-Semitic events targeting Jewish communities across the country, a celebration of Jewish pride and heritage in a community Shabbat dinner was in order.
Mayor of Pittsburgh Bill Peduto, House Representative Dan Frankel, and presidents of Carnegie Mellon University, University of Pittsburgh, Chatham University, and Robert Morris University, participated at the elaborate Shabbat dinner.
The evening was hosted by Chabad House on Campus, Chabad at Pitt, JGrads, and Chabad of CMU. Hillel Jewish University Center, the Charles Morris Charitable Trust, Carnegie Mellon University Senate, the University of Pittsburgh, Chatham University, Duquesne University and the Federation of Greater Pittsburgh co-sponsored the event
"With many different types of Jews around, I felt comfortable to call myself Jewish," said Shera Naydovich, a freshman at the University of Pittsburgh.
To learn more about Chabad on Campus, visit www.chabad.edu.