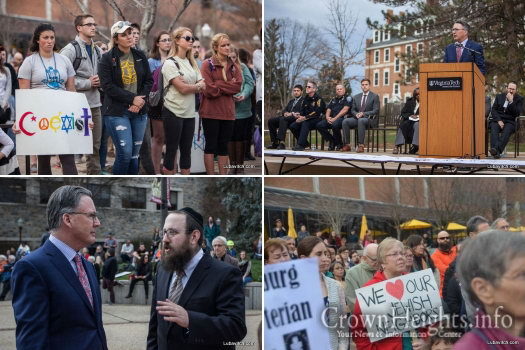 Virginia Tech Fights Back Against Hate
by Esther Gopin – Lubavitch.com
It was another ordinary Saturday afternoon when Chabad Rabbi Zvi Yaakov Zwiebel stepped out of the Chabad Librescu Jewish Student Center, located just across the street from Virginia Tech University, to find the lawn littered with over a hundred leaflets bearing hand-drawn swastikas.
The March 18 incident "occurred just one day after we announced that Chabad was hosting renowned holocaust survivor Rabbi Nissen Mangel for a lecture at Virginia Tech in April," wrote Rabbi Zwiebel in a statement. Slated for April 24th, Mangel's lecture is being held in memory of the Virginia Tech professor after whom the Chabad center is named: Liviu Librescu was a Holocaust survivor who died defending his students during the Virginia Tech shooting in April of 2007, when he held his lecture hall's doors closed against a crazed gunman, allowing his students to escape from the windows.
The rabbi believes the swastikas were a direct response to the announcement."Such acts of hate have no room in our Virginia Tech community." he said emphatically. Zwiebel and his wife Chanie opened Chabad of Virginia Tech in 2009.
"This incident is all the more surprising seeing as it is the first such act since Chabad on Campus at Virginia Tech was opened more than eight years ago." Undeterred, he vowed to "continue to fight hatred by increasing our efforts in spreading Jewish pride and the beauty of our heritage…We are positive that the increased light that we shed will overpower the darkness of senseless hatred."
A solidarity rally at the Graduate Life Center Plaza yesterday afternoon (March 20), led by Chabad as well as students, university officials and from both the Blacksburg and VT Police Departments, was attended by over 500 students, faculty members, and Blacksburg residents. Zwiebel opened the rally, noting that "the Jewish community in Blacksburg has only felt love for our neighbors."
Perhaps, he offered, a daily 'moment of silence' would be an effective antidote to the hatred.
"If at the beginning of every class…we can start with a moment of silence to reflect on a higher being, to reflect on the purpose of this world, and on what we could do to make this world a better place . . . I sincerely believe that the…(event) wouldn't have happened," he said.
Virginia Tech President Timothy Sands, who took the podium, said that while the perpetrators "hope to divide us, they only succeed in uniting us."  Sands was also among the first to jump to Chabad's support, sending out a Tweet Sunday morning that read, "#Hokies stand with you. The propagators of hate may be among us, but they are not welcome in our community."
Others spoke, delivering similar messages of unity, triumph, and acceptance.
"You will never make us afraid. You will never win. Dylann Roof did not win. Adolf Hitler did not win. Osama bin Laden did not win. The KKK did not win. James Earl Ray did not win. And you will never win either. We are Virginia Tech, and we will always win," VT Police chief Kevin Foust said.
Virginia Senator Tim Kaine voiced his support over social media. "I strongly condemn the cowardly acts of hate that are on the rise across our country, like the incident this weekend at the Chabad Librescu Jewish Student Center at Virginia Tech," he wrote in a statement. "I stand with the Jewish community in Blacksburg, Jews across the country . . ."
In response to the vile act, many students, alumni, community members and parents reached out to Chabad at Virginia Tech wanting to make monetary contributions or take action to fight the hatred with goodness and light. Some commented on Facebook, notifying Chabad of their contributions.
"I will make a $100 donation to the Chabad House. Let's meet hate with more resources to spread Judaism," one individual commented on the Chabad at VT Facebook page.
"It was my honor to make a contribution in response to this hatred, Rabbi. I look forward to sharing Passover with my Chabad family at VA Tech," another Facebook user wrote.
Others declared their intention to attend Rabbi Mangel's lecture in April.
"When is [Rabbi Mangel] coming? Let's show the Jewish Community of Blacksburg what we're all really about and turn out in huge numbers to support him and his message," wrote one woman.
"Rabbi, I am shaken by this hatred. Rabbi Mangel needs to be warmly received and listened to by the entire community," commented another.
The event prompted Chabad at Virginia Tech to set up a fundraising campaign called "We Will Prevail," with the goal of raising $25,000 to expand programming and to fund the upcoming holiday of Passover, for which they typically provide over 500 Passover meals and host about 100 students at the seder.
Virginia Tech is home to some 2200 Jewish students, reflecting roughly eleven percent of the overall student population. Chabad, the self-described "home away from home for every Jewish student," provides students with Shabbat and holiday events, Jewish learning sessions, Sinai Scholars, Kosher Cooking Club, and a wide range of programming throughout the year.
For more information about Chabad at Virginia Tech or to donate, visit www.jewishvt.com.
To RSVP to Rabbi Mangel's lecture, click here.