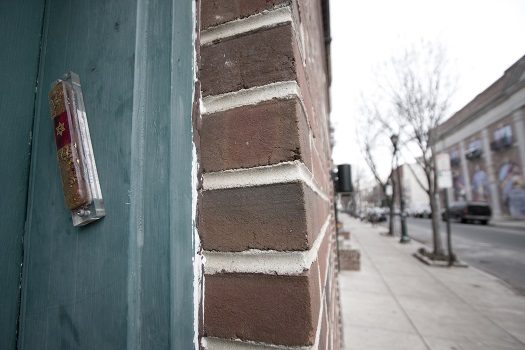 Rabbis Hit South Jersey Streets with Mezuzah Campaign to Counter Antisemitic Threats
from Philly.com:
With renovations nearly complete on her Cherry Hill home, Noa Nidam needed a final touch before move-in day: a sacred mezuzah carefully mounted on the doorpost.
Her neighborhood in the Woodcrest section is among the communities here and across South Jersey targeted in the Cherry Hill Mezuzah Campaign. Hasidic rabbis are on a mission to make sure that every Jewish home in the region has one.
Following careful instructions from Rabbi Menachem Kaminker, Nidam placed the handwritten parchment scroll in a case to the right of the bright red front door at an angle in the lower part of the top third of the doorpost. She repeated a prayer in Hebrew:
"Blessed are You, Lord our God, Ruler of the universe, who has sanctified us with His commandments and commanded us to affix a mezuzah."
"Amen," declared the Israeli-born Kaminker.
Kaminker, of the Israeli Chabad Center in Voorhees, and two other rabbis began hitting the streets this month  in the ambitious mezuzah campaign, unique to South Jersey. They were motivated largely by the recent wave of vandalism and bomb threats at Jewish community centers and institutions in Cherry Hill and around the country. The Katz Community Center in Cherry Hill received a bomb threat Feb. 27, causing the evacuation of hundreds.
"This campaign is definitely in response to what happened at the JCC," Kaminker said during an interview. "If people think they can intimidate us – we say quite the opposite, that we are proud of our Jewish identity."