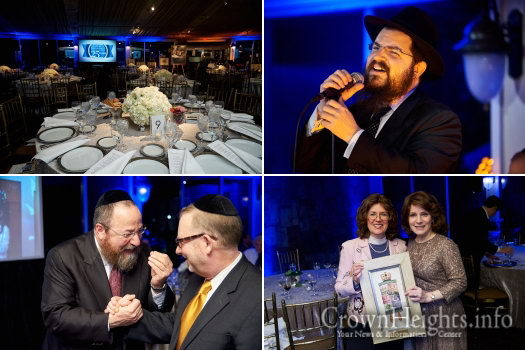 The Tappan Hill Mansion in Tarrytown, New York, was filled on Motzai Shabbos, as 250 supporters, friends, and Chabad Early Learning Center parents gathered to celebrate a quarter of a century of Chabad in Riverdale. Music sensation Benny Friedman captivated the room with his songs that were tailored for the Riverdale Jewish community, along with his own popular hits.
In an eloquent speech, shliach Rabbi Levi Y. Shemtov noted how much Chabad of Riverdale had accomplished in the last 25 years. Aside from the many educational and communal programs, Rabbi Levi Shemtov shared personal stories of individuals who personally benefited from Chabad of Riverdale's warm presence in the community. He described a drug addict who had turned to him in desperation. Rabbi Shemtov arranged for him to transfer to a rehabilitation program in Florida that ultimately saved his life. Then there was the personal story of a single mother who was on the verge of turning to a homeless shelter, but thanks to the intervention of Rabbi Levi and Sorah Shemtov, she is being hosted by local Jewish families in Riverdale. These are just a few of the countless stories where Chabad of Riverdale intervened to help fellow Yidden in trouble.
Jill Mirsky, a member of the Riverdale Jewish community, shared her moving personal story from the podium. During a dark period in her life, Rabbi Levi and Sorah Shemtov reached out to her and welcomed her into the Chabad of Riverdale community. In addition to providing camp scholarships for her three daughters, and raising tuition costs to enable them to attend Jewish schools, Rabbi Levi and Sorah Shemtov opened up their hearts and home to Jill – making sure she never felt alone. "Rabbi and Rebbetzin Shemtov have given me such a special gift… a community.. a home… friendships.. a place where we always feel welcome!"
Jaclyn and Naftali Moskovitz were honored as Parents of the Year. Naftali and Jaclyn Moskovitz have been living in Riverdale for the past six years. As soon as their children started at the Chabad preschool, they instantly felt a connection to the love and warm environment that exists at Chabad, and the love of Yiddishkeit that is imparted to the children.
25 Friends and Supporters were honored for their longstanding commitment and friendship: Susan & Bill Abramson, Michelle & Bruce Berger, Gigi & Bill Frenkel, Devorah & Avraham Hayman, Sharon & Herbert Hirsch, Beth & Peter Kolevzon, Helen & Jerry Leff, Debbie & Mendy Merel, Gitty & Yehuda Moskowitz, Noga & Steve Romer, Debbie & David Sable, Dr. Frimet Skolas, and Ahuva & David Tabaczynski.
Bill Abramson, one of the 25 honorees, described his friendship with Rabbi Levi and Sorah Shemtov. He had first met Rabbi Levi Shemtov when he was working as the Health and Fitness Director at the Riverdale Y. As part of Bill's position at the Riverdale Y, he was required to enhance his Jewish knowledge, and that is when he started attending Rabbi Levi Shemtov's Torah classes. The relationship was reciprocal, because as a result of Bill's positive influence, Rabbi Levi ran his first 5k race! "This is the beauty of Rabbi Shemtov and Chabad…," Bill described, "the ability to deal and accept a skeptical, blue collar guy like me, yet also to have the same respect for the more observant people and be able to navigate between these two worlds with ease and comfort."
Each dinner guest received a beautiful keepsake: the dinner journal was comprised of novel thoughts on the parsha. Each parsha was dedicated by a community member in honor or memory of a friend or loved one.
Benny Friedman's musical entertainment was appreciated and enjoyed by all, and at one point in the evening, half of the room were up on their feet dancing around the tables. This was accompanied by the special warmth and love that is the trademark of Chabad.
Chabad 2017 Dinner – Havdala from River Videos LLC on Vimeo.