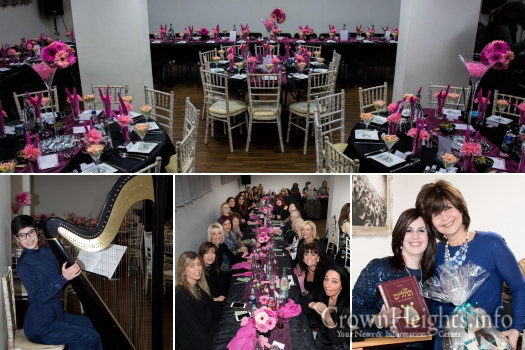 When 125 women gather together, it must be for something worthwhile. On Tuesday, 16th January, a partnership between Chai Cancer Care and Chabad Buckhurst Hill resulted in a Gala Dinner that not only raised money for Chai Cancer Care but also raised awareness of the difference that this charity can make to enable individuals and families suffering with cancer to feel cared for and never simply left alone.
Chabad Buckhurst Hill was magically transformed into a stunning banqueting suite by a dedicated team of local volunteers and after the meal, which was all prepared in-house, guests were enthralled by Louise Hager, Chair of Chai Cancer Care, who inspired the diners with her work, enlightening many who were unaware that there was such a professional service within the community, not only for those suffering with cancer but for their families too. A young harpist, 14 year old daughter Chanale of Rabbi & Mrs Brackman of Chabad Oxford, entertained the crowd with her amazing talents. A raffle helped raise money for the two charities with all prizes also being donated by local supporters.
Chai means life and it is clear that Chai Cancer Care is an outstanding example of where Jewish values can combine with the latest medical advances to enable hope; this is also the spiritual message that is conveyed by Chabad Lubavitch making for a perfect partnership. The evening was in tribute to the late mother of Mrs Henny Brandman, Mrs Hindy Scheiman, who passed away from cancer 3 years ago and was a shining example to all of what dedication to community means. Mrs Brandman opened the evening with an emotional and tear jerking speech about her mother's life and lessons that all present could learn from her.
Rabbi Odom Brandman stated that the evening was "the greatest example of where Jewish values can really make a difference", and is proud that Buckhurst Hill Chabad is at the heart of the local community.