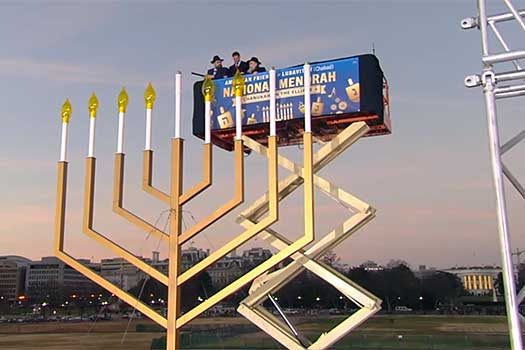 In a stunning betrayal of the State of Israel, the United States abstained from voting at a Friday session of the United Nations Security Council on a resolution condemning the Jewish State. At the National Menorah Lighting ceremony, a Chabad Rabbi seized the opportunity to deliver a harsh reminder to the outgoing administration.
In a stunning reversal of years of diplomatic tradition, the United States allowed a harshly critical resolution condemning the State of Israel by abstaining from voting – allowing the resolution to pass 14-0. Historically the U.S. would veto such action, effectively killing it before reaching a vote.
Many saw this move by the Obama administration as a 'stab in the back' to the Jewish State, with the Israeli Prime Minister Benjamin Netanyahu even accusing the outgoing president of colluding with the Palestinians in being this resolution to the table in the first place.
At the National Menorah Lighting in Washington, DC – which takes place on the national mall with the White House right behind it – Chabad Rabbi Levi Shemtov, the Executive Vice President of American Friends of Lubavitch (Chabad), took the opportunity to remind the administration of the Rebbes words to Mr. Netanyahu years ago when he himself was an ambassador to the United Nations.
Representing the Obama administration was Adam Szubin, the Acting Under Secretary for Terrorism and Financial Intelligence, who delivered a message on light and the struggle of the Jewish people.
Before the conclusion of the event Rabbi Shemtov delivered a parting shot;
"Earlier secretary Szubin spoke of fighting darkness with light, I remember those words being spoken to a particular man by the Lubavitcher Rebbe many many years ago on Simchat Torah, when we rejoice with the Torah.
"The Rebbe told him you are working in place of great grief and darkness, but remember that in that place you can only counter it by lighting a candle, by creating light. That man was Benyamin Netanyahu, and he was at the time the ambassador to the United Nations.
"So I know that some of us so sad at what happens there with regards to Israel, we must remember that the way to counter any darkness, any disappointment, is not with harsh rhetoric, not with anger, but by creating light, because when we create light, the darkness dissipates, and we look forward to the day when there will be no more darkness, no more evil, no more disappointment, we will live a life full of light, full of peace, full of harmony as we will all be together in the coming of the world to its point of redemption" Shemtov said.
A local news publication, the Washington Examiner, presented Shemtovs words in a much harsher light, using a headline calling the Rabbis message as 'Trashing Obamas UN Move."