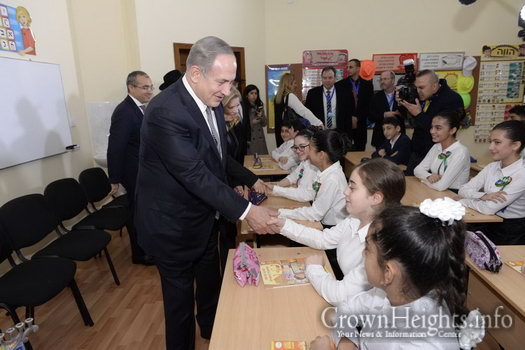 Israeli Prime Minister Benjamin Netanyahu, who is on a state visit to Azerbaijan, visited the Chabad Ohr Avner Education Center for Jewish children in Baku together with his wife.
The Netanyahus toured the institution together with representatives of the Jewish community of Azerbaijan.
The prime minister expressed much admiration for the school, and thanked Chabad and the Heydar Aliyev Foundation for the attention given to the education of Jewish children in the Muslim-majority nation.
After their tour, the school's choir performed Jewish and Azerbaijani songs for Netanyahu and his wife.
Netanyahu Tells Azerbaijan Schoolchildren of the Rebbe's Influence
from Chabad.org
The students were all smiles at the Or Avner Jewish day school in Baku, Azerbaijan, when Israeli Prime Minister Benjamin Netanyahu and his wife, Sarah, paid them a visit on Dec. 13.
The Netanyahus compared notes on Jewish life with the children. The kids told them about local Jewish customs and how they celebrate Shabbat, keep kosher and pray every morning at the Chabad-affiliated school. Or Avner operates 125 educational institutions across 10 countries of the former Soviet Union, including Russia, Ukraine, Belarus, Estonia, Latvia, Kazakhstan, Kyrgyzstan, Uzbekistan, Azerbaijan and Georgia. It includes day schools, kindergartens, afternoon and Sunday schools, as well as six higher-education institutes.
Then the prime minister shared that he learns the weekly parshah (Torahportion) with his youngest son, Avner, when the teenager is on furlough from his current duties in the Israeli Defense Forces.
"My wife and I are so glad to be here," said Netanyahu, "firstly, because we love Azerbaijan, and secondly, because we love Chabad."
He went on to tell them about the meeting he had with the Lubavitcher Rebbe—Rabbi Menachem M. Schneerson, of righteous memory—32 years ago, when the current premier was appointed Israel's ambassador to the United Nations. "The Rebbe told me that I was going to a place of eternal darkness. 'Remember that if you light a candle of truth,' he told me, 'this will spread light that will be seen from afar.' From then on, I try to act exactly as the Rebbe told me.
"And there are some times when you light candles in places where it is already light," he continued, noting the warm ties between Israel and Azerbaijan, a Muslim country. "That is the case here in Baku. The Rebbe taught us to love every Jew—indeed, to love every person."
Photos courtesy of FJC.ru