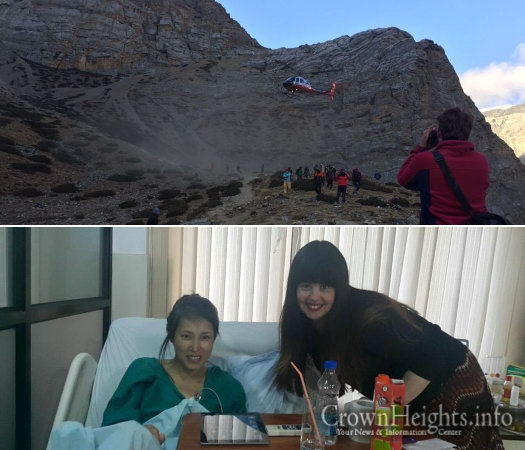 Israeli Backpackers and Chabad Save Life of Japanese Tourist in Nepal
A rockslide buried Japanese tourist Akiho Sugiyama, who was trekking the Annapurna Circuit in Nepal, under heavy boulders. Luckily for her, a group of Israeli backpackers with a satellite phone provided to them by the local Chabad Shluchim was close behind.
from Israel 21C:
Several Israeli backpackers on the world-famous Annapurna Circuit in Nepal couldn't have known that their post-army trek would turn into a lifesaving mission.
Luckily, the backpackers, recently discharged from their military service, were near Thorong Phedi (4,538 meters high) exactly when Japanese tourist Akiho Sugiyama needed them to save her life.
The 40-year-old Japanese artist and calligrapher, who was trekking solo, was hit by a sudden rockslide that buried her under heavy boulders.
The Israeli backpackers arrived on the scene – which was along their trail route — a few minutes after the accident and raced to her rescue upon hearing her cries for help, according to a Facebook post uploaded on December 5 by Chabad House Thamel Kathmandu.
One of the Israeli backpackers was an army medic and applied tourniquets to Sugiyama, who was bleeding profusely. Others in the group sent an SOS signal with a satellite phone to the Chabad House in Kathmandu, run by Rabbi Chezi and Chani Lifshitz.
According to Chani Lifshitz, a helicopter that was at another nearby incident was sent to pick up Sugiyama and bring her to the hospital in the capital.
The Lifshitzes met Sugiyama upon her arrival at the hospital and stayed to help her.
Click here to continue reading at Israel 21C.