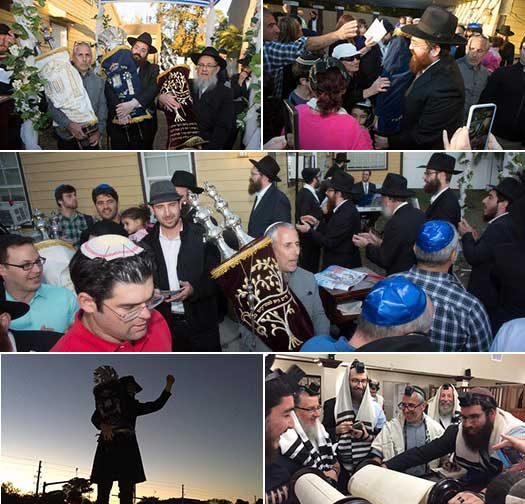 Earlier this week Chabad @ the Beaches welcomed a brand new Sefer Torah, at the Aaron and Blanche Scharf Chabad Center in Ponte Vedra, Florida.
The Torah was dedicated by Mrs. Feigie Drizin of Crown Heights, together with her children Rochel Katz, Nechama Berenshtein, Yosef Drizin and Zalmen Drizin – in memory of Rabbi Yisroel Drizin A"H.
The entire family flew in to join the Shluchim Rabbi Nochum and Leah Kurinsky and the Ponte Vedra Jewish community for the event.
Many others have travelled as well from all over the East coast to attend the dedication, including the parents of Shlucha Mrs. Kurinsky, Mr. Kalman and Chanie Rothman.
Mr. Rothman would attend a weekly Talmud lesson given by R' Yisroel in his home for many years. Mr. Rothman was so moved by the dedication that he flew in to participate. He had a special brochure printed in R' Yisroel's honor.
Rabbi Yisroel was a philanthropist, a world class educator, and a true Chossid with a burning love for G-d and for every Jew he would encounter. Many a time Rabbi Yisroel's eyes would become moist upon listening to difficulties even complete strangers was going through, and would help them out with an open hand and heart.
The dedication ceremony included a Chupah ceremony, a special children's program, dancing and a complete catered dinner.
Chabad @ the Beaches wished to thank the following people for making this event happen:
Mrs. Feigie Drizin and her children for this miraculous Torah, Masha Hleap of Fuego Mundo Catering, Rabbi Bentzion Chanowitz of the Bais Yisroel Torah Gemach, Mr. & Mrs. Kalman Rothman, Mrs. Chana Kurinsky, Mr. Yehuda Ben Simon, Scarlett Crabtree, Rebbitzen Leah Kurinsky and Rabbis Eli Wilansky and Nochum Kurinsky.
Thank you bochurim Fitzy Barrocas and Levy Warren for joining all the way from Coral Springs and for bringing such Simcha. A special thank you to all those who attended and contributed to this incredible simcha.