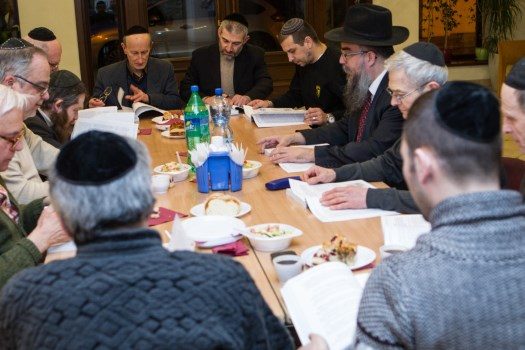 File photo: Rabbi Krinsky conducts a Torah study session with local Jews.
Leaders of Lithuania's small and fractious Jewish community hired security guards to prevent a local Chabad rabbi and his supporters from attending synagogue in Vilnius (Vilna).
From the JTA:
Guards prevented Rabbi Sholom Ber Krinsky, who settled in Vilnius in 1994, from entering a Jewish community center on Oct. 28, which functioned on that day as a house of worship due to renovations at the city's main synagogue, according to Kalev Krelin, who earlier this year was appointed the chief rabbi of Lithuania. They also called police, who ejected several of Krinsky's supporters.
The incident, which comes 12 years after a series of similar confrontations in Vilnius, is unusual in that it is an open expression of the quiet resentment of Chabad held by some members of several small Jewish communities in Europe. These Jews oppose what they see as the movement's fundamentalism or believe the work of Chabad rabbis in their communities is needlessly dividing congregations that are barely large enough to function.
Zecharya Olickij, an observant Jew from Vilnius, said police detained him briefly after he asked why he and other supporters of Krinsky were being ejected. Community officials said Krinsky had "misbehaved," Olickij said, who disputed the assertion. Krinsky has "been always very helpful to the congregation, but he did not misbehave in any way whatsoever," Olickij said.