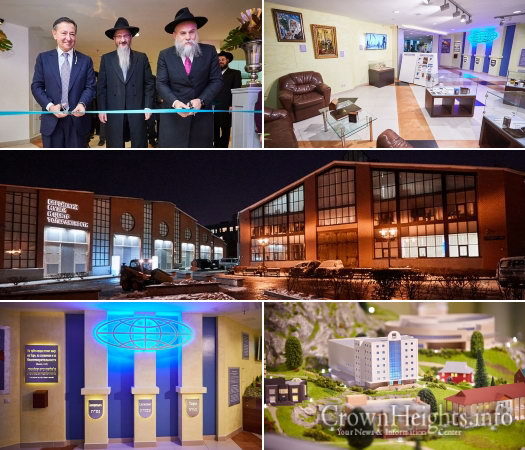 At a simple, yet impressive affair on Motzei Shabbos of Parshas Noach a new, one-of-a-kind Tzedaka Museum and Visitor's Center was dedicated. It's goal is to educate people about the importance of the third pillar on which the world stands; the pillar of Chesed.
The mezuza was affixed by Chief Rabbi of Russia, Berel Lazar, who was also the initiator and founder of the Shaarei Tzedek Chesed Center in Moscow. The center caters to the needs of over 15,000 elderly and indigent Jews throughout the year, feeding them and taking care of their medical needs.
The ribbon was cut by philanthropist Yekusiel Yehuda Rohr as well as president of the Jewish Federation of Russia, Alexander Boroda.
The museum and visitor's center are home to many artifacts that are connected to the mitzvah of tzedaka throughout our history. It also hosts a plethora of programs and projects that aid Russian Jewry at large, and specifically in Moscow. The Shaarei Tzedek Chesed Center is currently the largest such institution in all of the former CIS.
The highlight at the museum is a miniature replica of Jewish Moscow. It depicts the many educational institutions as well as shuls throughout the city. Based on what our sages have said that when Moshiach will come all shuls will be transferred to Eretz Yisroel, the replica includes the third Beis Hamikdash. Reb Levi Yitzchok of Berditchev added, that all Jewish homes that are full of mitzvos and tzedaka will go up to Eretz Yisroel as well. Looking at the miniature, one is awed by the amount of shuls, educational institutions, kolels and yeshivas that are part of the Jewish renaissance in Moscow.
Photos by Levi Nazarov