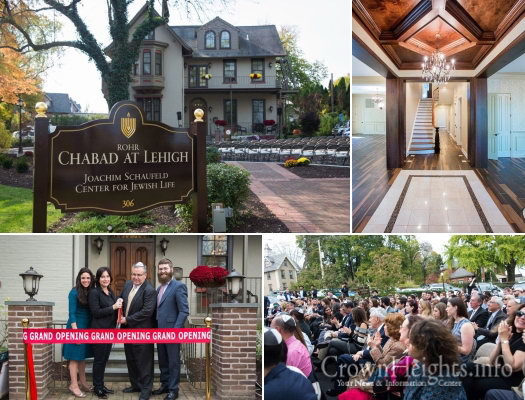 On October 30th, Rohr Chabad at Lehigh University celebrated the dedication ceremony of the Joachim Schaufeld Center for Jewish Life, and co-directors Rabbi Zalman and Yehudit Greenberg took time to reflect on their journey since their humble beginnings in 2008.
They've come a long way from their days struggling to accommodate the overflow of students outside of the front and back entrances of their first Chabad House on Evans Street, because, on many occasions, there was no available standing room inside. Acquiring and renovating the historic, 10,000 square foot mansion, originally built in 1863, has been a much-anticipated joyful solution.
"Let's just say we had modest expectations to start" Said Rabbi Greenberg, on establishing the Chabad House at Lehigh. "The first Shabbat we had 2 students, and on the second, 10. Rosh Hashanah [The Jewish New Year] rolled around, we accommodated around 35 students."
By the third year, they were bursting at the seams. Zalman and Yehudit started renting tents for additional space to host events in their backyard. During the 3rd and 4th years, at some of the bigger events, such as the Welcoming barbeques and Rosh Hashanah meals, they needed to expand outwards into the neighbors' yards. Year 7 saw their largest Shabbat event yet, Shabbat 300, where the Chabad House hosted over 300 students for a Shabbat meal at the nearby Comforts Suites University.
Now, almost halfway through year 8, they are taking full advantage of their new space, fully equipped with a library, multiple classrooms, and even 4 guest room suites, sponsored by alumni and others, to accommodate them when visiting for Shabbat or to host the parents of current students.
While some of their big events have packed the mansion since it's opening, there is still much room to grow, says Rabbi Greenberg. Running the Chabad House is a team effort, as both Rabbi Greenberg and his wife Yehudit run a wide range of programs for students, alumni, and even parents. Some of the events run by Zalman and Yehudit include a Sinai Scholars Society curriculum, a lunch and learn program, and one-on-one learning, among others. Other events provided by the Chabad House include Jewish Life Barbeques, Sushi in the Sukkah, Shabbat and High Holidays services and meals, and Birthright trips to Israel.
"Zalman and Yehudit are both very special people that have dedicated their lives to the development of Jewish life on Lehigh's campus." said Jordan Levy, a recent Lehigh graduate and former member of the student board at Lehigh's Chabad house. "Opening the center marks the beginning of a new chapter at Lehigh where any student from anywhere in the world can enjoy a home cooked meal, focus of family togetherness, and learn more about Jewish traditions."
The lead donors, Fredrick and Karen Schaufeld, both Lehigh Alumni, and their two sons have a strong connection to the Rohr Chabad House. Jacob, 24 is a former student, and Matt is there currently. The Center for Jewish Life was named for Fredrick's late father, Joachim.  George and Pamela Rohr, who have funded the establishment of over 100 Chabad Houses across college campuses throughout the United States, has led the effort to establish Chabad at Lehigh as well by funding the capital campaign.
Chabad on Campus began through an initiative by the Lubavitcher Rebbe, Rabbi Menachem Schneerson, of blessed memory, to send Jewish emissaries, or Shluchim, around the world. It is a rapidly expanding network of over 235 centers serving colleges and universities globally, and represents the largest network of full-time professionally staffed Jewish campus centers in the world.
"The [opening of the new center] is an unbelievable event, a milestone, a big simcha." Yehudit proclaimed.
"The donors made it possible. But the growth of the Chabad House we credit to the student executive board, as well as other students who have volunteered their time, energy, and talent, to enable Chabad to flourish on campus. It has been a real community effort."
The event was deemed a success as it hosted over 300 people, with a wide range of speakers, including the Director of the Chabad House at Stanford University, Rabbi Dov Greenberg, donors Richard Miller and Dr. Dovid Chaim Maiman, students and alumni, and of course, Zalman and Yehudit.
"The new center is a testament to the amazing work that has been done on campus, and a promise to future generations that Jewish life at Lehigh is thriving and will continue to do so for years to come," added Alex Lass, another proud Lehigh alumnus.
"It is both an inspiring and nurturing building, and that is truly a reflection of both Rabbi Zalman and Yehudit," said Allie, a current student at Lehigh and frequenter of the Chabad House.
The Chabad House at Lehigh is proud to provide a treasure chest of opportunities for Jewish students of all distinctions. A full array of activities awaits you- from the intellectual challenges of the Talmud, to relaxing Jewish movie nights, and everything in between.