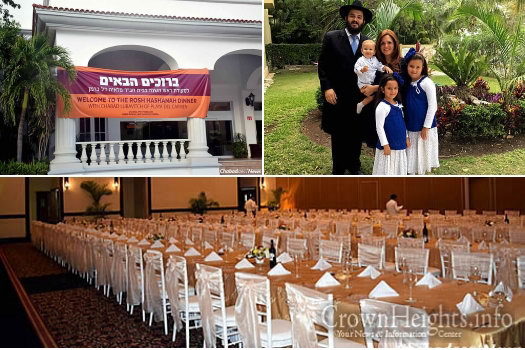 by Faygie Levy Holt – Chabad.org
Rosh Hashanah brought a family reunion of sorts to Chabad Lubavitch of Playa del Carmen: The Jewish Center of the Riviera Maya in Mexico as 500 Jews, most of them strangers to one another, joined together for a holiday meal complete with round challahs, apples and honey, mouthwatering meats and lively conversation, complete with words of Torah.
It was the largest Rosh Hashanah meal that the Chabad center—co-directed by Rabbi Mendel and Chaya Goldberg—had ever hosted. Most saw postings online, or heard of the dinner and services by word of mouth.
"Every person who comes is our special VIP guest," says the rabbi, originally from Paris (his wife was born in Brooklyn, N.Y.). "We host Jews from all different types of backgrounds, so we do our best to accommodate all the customs equally. During the prayer service, we sing some Ashkenazi/Chabad tunes and then sing some Sephardictunes in the same prayer; it makes everyone comfortable and happy."
The Goldbergs have been hosting Rosh Hashanah programs since they arrived six years ago. "We had our first community Rosh Hashanah event back in 2010, though we'd only been living here for a little more than a month," recalls Goldberg. "We had an unexpected 120 people at that dinner; our numbers continue to climb each year. We have large attendance atPassover as well."
While October is not the height of tourist season for those in North America, in Israel, because of all the holidays in the Jewish month of Tishrei, many people take time off and go away. Thus, the Goldbergs' Rosh Hashanah table included a significant number of Israelis, along with honeymooners from around the world—not to mention ex-pats from the United States, Canada, South America and Europe, as well as Jews who come from bigger Mexican cities. The ages ran the gamut, from the young to old, with families, seniors and singles melded into one.
"Being far from home, they are happy to find a Jewish home away from home," says Goldberg. "They brought great enthusiasm."
The food was prepared at theChabad House in the building's tiny 140-square-foot kitchen. Goldberg credits a "great team" of people who helped make the meal possible—and who will be preparing more holiday fare in the days and weeks to come.
Planning starts far in advance, as the Goldbergs must arrange for a special shipment of chicken, meat and wine for the holidays to this coastal resort along the Yucatan Peninsula. But the challah is made locally. That's a good thing, especially given that that despite having made 120 loaves of large challahs before Rosh Hashanah, the Goldbergs wound up churning out some more to accommodate the crowd.
"People always ask where the challah comes from," says the rabbi, who notes that they have regular deliveries of it to people during the year. "They are always so surprised when they see the amount of homemade challah we can produce here."