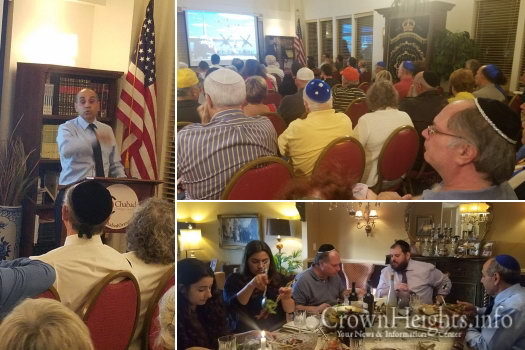 On Tuesday, September 20, more than 65 people filled the shul at Chabad of Orange County, directed by Rabbi Pesach and Chana Burston, for a special evening with IDF Commando Mr. Sassy Reuven commemorating 40 years since Operation Thunderbolt – the Raid on Entebbe.
Sassy, who was an Elite IDF Commander and was second commando on the ground during the raid on Entebbe July 4th 1976, told his fascinating first-hand account how Israel pulled off one of the most daring and successful hostage rescue raids ever, known as Operation Thunderbolt, at Entebbe Airport in Uganda after an Air France plane on its way from Tel Aviv had been hijacked by terrorists.
"As we mark the 40th anniversary of this daring rescue, we reflect on his story which is Israel's story: of courage, endurance, defiance and a willingness to sacrifice it all for the right to live in your homeland in freedom." Burston explained when introducing him.
The evening was dedicated to the Israel Defense Force and to the good health of Chabad president Gil Goetz. The evening was made possible by all the attended as the event sponsors: Jack & Suzy Berkowitz, Gil & Phyllis Goetz, Henry & Samira Galler, Ira & Karen Kanis, Jim Rogers and Mitch & Gladys Wenzel.
Chabad received lots of positive feedback from the community, including these words from Samira Galler: "Can't thank you enough for an evening filled with wonder, pride and a glimpse of the brave and incredibly well trained soldiers of Israel."
Prior to the presentation, the Burston family hosted Mr. Reuven in their Monroe home for dinner.
At the conclusion of the event, Mr. Reuven was excited to meet Orange County resident Iris Geller, who is a first cousin of Lt. Col. Yonatan Netanyahu, (brother of Prime Minister Benjamin Netanyahu), who was killed during Operation Entebbe—the only IDF fatality during the operation.