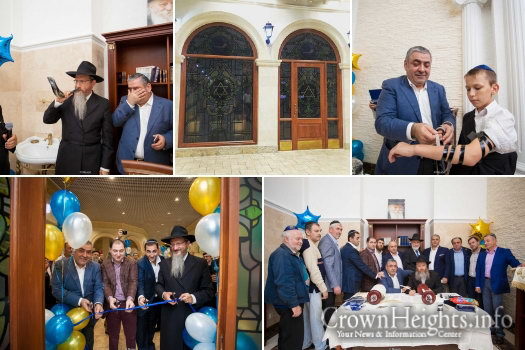 In a simple, yet impressive, ceremony last week, a beautiful new shul was dedicated in Moscow's international airport for the benefit of the many Jewish travelers arriving in Russia or just passing through.
Present at the Shul's dedication ceremony were the Chief Rabbi of Russia, Berl Lazar, his friends the Bareli family, who sponsored the shul, and more.
After affixing a mezuza to the shul's main doors, a special, mehudar Torah scroll was completed and placed into the beautiful aron kodesh amidst the singing and dancing of the crowd. This made a great Kiddush Hashem amongst the many passengers who were in the airport during this time.
The donors of the shul and torah were honored with Teffilin for two bar mitzva boys who are now learning in the Mesivta of Moscow, which educates many boys from all over Russia, preparing them for further learning in Yeshivas Tomchei Tmimim.
The shul was opened at the Domodedovo airport, the largest of the city's four airports, where hundreds of flights, including many El Al flights, land and take off daily.  May the other airports merit their own shuls in the near future too!
Photos by Natan Lazovnikov