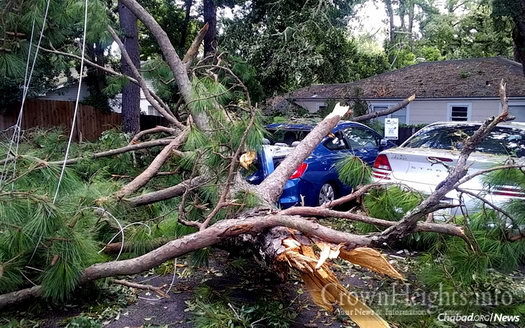 by Faygie Levy Holt – Chabad.org
After days of relentless heat—temperatures are expected to continue in the 90s—rain and no electricity and air-conditioning, one thing is clear: rebuilding parts of Tallahassee, Fla., that were impacted by Hurricane Hermine is going to take time, money and determination.
The storm that pounded Florida lessened in intensity after raining down on Georgia and the Carolinas before making its way up the Atlantic Ocean to the northeastern United States. At least two people lost their lives in its path.
Hermine was the first hurricane to hit Florida directly in 10 years, and left significant damage in its wake and days in the dark for many in Tallahassee and surrounding communities.
Flooded homes and buildings will need major repair, as will various infrastructure, including downed power lines and broken utility poles. While the water has receded, the residual effects, including mold and mildew, will linger. Some 100,000 city residents were without of electricity in the immediate aftermath of the Category 1 storm, with an estimated 21,000 homes still without lights or air-conditioning.
Among the latter are Rabbi Shneur Zalman and Chanie Oirechman, co-directors ofChabad Lubavitch of the Panhandle in Tallahassee and the parents of nine children who range in age from 6 months to 17 years old. The couple says the Chabad House sustained significant damage.
"It has a major leak in the roof, and there's water on the carpets that will need to be replaced. Plus, the basement got filled up with water and there's mildew," says Rabbi Oirechman, noting that they serve local residents and students at Florida State University and Tallahassee Community College. "There's massive work that will need to be done, and we still need to get an estimate on roof repairs."
According to Chanie Oirechman, the storm that hit Florida's state capital overnight Thursday into Friday also destroyed more than $5,000 worth of their food.
"We spent the summer months preparing for the new semester and school year by getting the programs planned and the food bought," she explains. "We had six freezers with food, including meats and chicken for the upcoming High Holidays that we have to throw away. And it's not just the frozen foods, but the dry items as well because it's so hot and humid, it can [attract bugs]."
They did what they could to salvage some food items on Friday, just hours before Shabbat. Chanie Oirechman reports that "the older kids grilled everything they could, and we sent some of it to a homeless shelter and some to others in our community."
Of course, they used some for Shabbat dinner. But there was no way to even chill the leftovers.
'Here for Whoever Needs Us'
Because the family keeps strictly kosher, they are limited to what they can buy at the moment since many items are not available in local markets. They have been making due with matzah, peanut butter, vegetables and fruit, among other items.
"It hasn't been the most pleasant experience, but we have to be here for whoever needs us," says Chanie Oirechman.
The Oirechmans have been reaching out to affected community members—and vice versa. Nearly a dozen people joined them for Shabbat dinner despite the pitch-black atmosphere caused by no electricity and a torrent of rain; students have turned to them for bottled water and bags of store-bougt ice; and some residents have called seeking the couple's counsel or simply to see a friendly face.
As they wait for the power to come back on, the couple is looking ahead. With Rosh Hashanah less than one month away—they traditionally provide kosher High Holiday dinners to more than 1,000 people—they know they have to get back to business as soon as possible.
The Chabad House seeks support for building repairs and restocking kosher holiday food for local residents and students. See here.