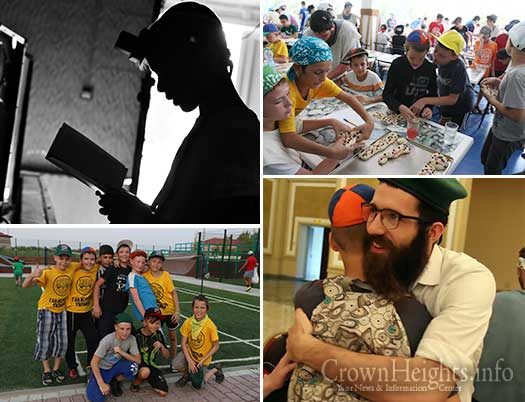 25 Yeshiva students from across United States, Canada, England, Israel and Australia flew to Dnepropetrovsk, Ukraine to run a summer camps for 140 Jewish children.
This year's camp, which had launched in Menora Center in Denpropetrovsk, is the largest camp for Camp Gan Israel Yekatrinoslav to date. The camp grounds are located in the picturesque "Blue Flame" campgrounds, located on the Sea of Azoff. This special opportunity is largely due to a partnership with STL – "Shiurei Torah Lubavitch" – the Ukrainian branch of CTeens and CKids which is made possible by the generous support of Rabbi Shmuel Kaminetzky and the Dnepropetrovsk Jewish Community.
In addition to most of the counselors travelling from village to village in Ukraine throughout the first half of the summer to recruit campers, STL used its wide network to bring in Jewish children, many for their first ever Jewish summer camp experience. The bochurim were travelling as part of their Merkoz Shlichus, with the end goal of creating this camp for the children that they would meet.
"What's most exciting about this year's camp is how these children now have a year-round system with STL that they can be a part of," says Yosef Peysin – head counselor. "Their Jewish education and experience does not end with the closing of camp, but they can join monthly Shabbatons, classes and events with children and teens in their cities."
A big thank you to Rabbi Moshe Kotlarsky, Rabbi Shmuel Kaminetzky and the Dnepropetrovsk Jewish Community for their hard work and generous support in making this camp a reality.
Video recap of the first day: