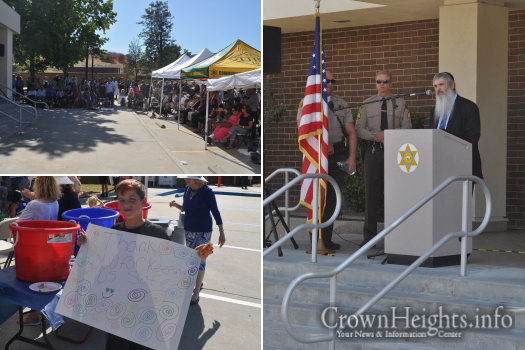 Despite the intense heat, citizens from across the Conejo Valley in California gathered outside the Lost Hills Sheriff's Station in Calabasas Tuesday afternoon to show their support for local law enforcement. The event was organized by Rabbi Moshe Bryski, executive director of the Chabad of the Conejo, who was touched by a Facebook post he read by one of the officers slain in the recent shooting incident in Baton Rouge, Louisiana.
Officer Montrell Jackson wrote just before his death: "I swear to God I love this city but I wonder if this city loves me."
"That was his final message," said Bryski." I felt a knot in my stomach that we needed to do something to say to our local law enforcement that we love and appreciate them and admire their courage and sacrifice for us."
Billed as non denominational "celebration of honor, integrity, sacrifice and commitment," the event was an opportunity for people of all races, colors and religions to express their common respect and solidarity for the vital role that the police play in maintaining the quality of life in the Conejo Valley, according to Bryski.
Click here to continue reading at Conejo Valley Happening.