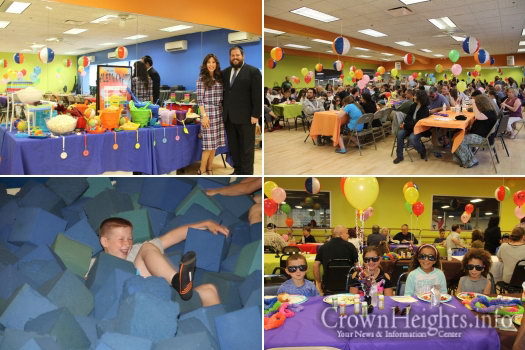 Chabad of Orange County's Hebrew School celebrated student accomplishments at a festive Moving-Up Awards Ceremony.  The event was attended by many of the Hebrew School's 90 students, along with their families, and was held at the Orange County Sports Club in the town of Florida, NY.
Heavy rains on June 5th caused Chabad to find an indoor venue for the event, originally scheduled to be held at Chester Commons Park. Rabbi Pesach Burston, director of Chabad, thanked Eric Muhlrad, owner of Orange County Sports Club and his dedicated staff for the hosting and accommodating the last-minute venue change.
The program began with gymnastics and bounce fun as well as a barbeque buffet.  The beach theme décor included a special feature of an "Aleph Champ Beach Snack Bar"- color-coded according to the various levels of Hebrew reading taught at Chabad Hebrew School.  The colorful beach décor also included giant "Hashtag beach balls" hanging from the ceiling, which featured hashtags like #LearningNeverEnds #CHS #ProudToBeJewish and many more.  Hebrew Alphabet bubbles, Luau necklaces and shades added to the fun.
Chana Burston, principal of Chabad Hebrew School, welcomed the crowd and explained the concept behind the beach theme décor.  "Just as a fish needs water to live, a Jew needs to learn about the Torah for the Jewish people to survive- in order to continue the Jewish traditions and pass them on to the next generation."  Burston added that in Kaballah, the Torah is compared to water.
Representing the parent body, Kimberly Landgraff of Tuxedo, addressed the spirited crowd.  "My son Phineas, age 6, wakes up each Sunday looking forward to going to Hebrew School" she said and spoke about how much they enjoy Hebrew School, the thought-provoking lessons, the dedicated staff, the motivating "Torah Tokens,"  and the individualized attention to each student.  Landgraff also spoke of the community events her family attends, in addition to Hebrew School.  "The Chabad events are always so beautiful and thoughtfully planned to the last detail. I'm so glad we were able to find a place to come together to celebrate our heritage.  Thank you so much for making Chabad Orange we welcoming place."
Hebrew School students Michael Miller of Chester and Matthew Graves of Central Valley shared their experiences at Chabad Hebrew School.  Michael Miller's presentation highlighted the "Top 5 things I like about Chabad Hebrew School," including "great lessons about Jewish traditions and holidays, charity projects, baking challah-bread, making many new friends and learning Hebrew which makes me able to communicate with my family in Israel."  Matthew Graves also shared his highlights of Hebrew School, how it's preparing him for his Bar Mitzvah and how involved his family is as well.  "I love Chabad!"
For Hebrew reading, Chabad Hebrew School uses the acclaimed Aleph Champion Reading Program. Based on the martial arts motivational philosophy of color-coded levels and testing, it provides excitement and inspiration, leading the students into a winning cycle of learning.  Games, flashcards, workbooks and rewards make every step along this remarkable journey a fun and educational success.
Acknowledgements and Awards were given to supporters, staff, volunteers and the students. Chabad expressed their appreciation to the staff and volunteers, including local teens, which help on a continuous basis and presented them each with a gift of recognition.
Special honor was also given to Chabad's donors as well as the Gregg Wenzel Scholarship Fund.  "Chabad's policy is that no one will be turned down due to lack of funds" said Rabbi Pesach, "and our supporters make that happen!"  A gift was presented to Gladys and Mitch Wenzel of Monroe.
Students were presented with awards for their accomplishments and levels passed. Each student received a gift as well.
Chabad's Hebrew School offers a choice of classes Sunday mornings or Sunday mornings. The First Taste program is geared for ages 5-6, and Hebrew School caters to ages 7-13. Registration Hebrew School next fall is underway. For more information, and to request registration forms please contact Chabad at 845-782-2770; write HS@ChabadOrange.com or visit www.ChabadOrange.com.