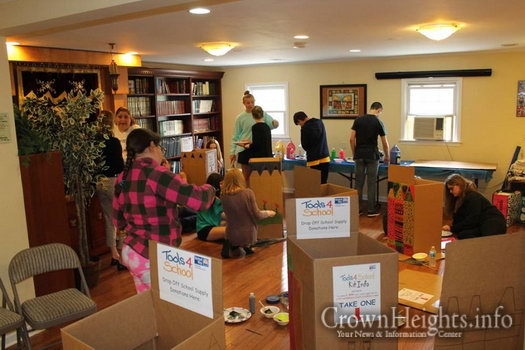 From NJ.com:
With graduation bells ringing and the scholastic year ending, the Chabad of Hunterdon County's Teen Network (CTeen) celebrated with an End-of-Year Volunteer Day. Partnering with another local youth organization, the Hunterdon Youth Coalition, the young leaders spent their Sunday afternoon decorating beautiful collection boxes for United Way's "Tools for Schools" project.
These boxes will be placed throughout the county to accept donated school supplies to be distributed to those who cannot afford them.  Featured at this event were two amazing guests, who shared with the group words of wisdom and empowerment.
"It was my pleasure to visit with Chabad teens at their annual Year-End Volunteer Day and to see the enthusiasm they brought to the United Way project and to serving others," said Freeholder Director Ms. Suzanne Lagay. "It is inspiring to realize that the future belongs to those with dedication to service and contribution to community."
CTeen teaches teens critical leadership skills, putting power in the hands of the teens themselves. Through creative thinking, social responsibility and community engagement, CTeen provides Hunterdon County teens a unique opportunity to create and implement community service initiatives and charity fundraisers.