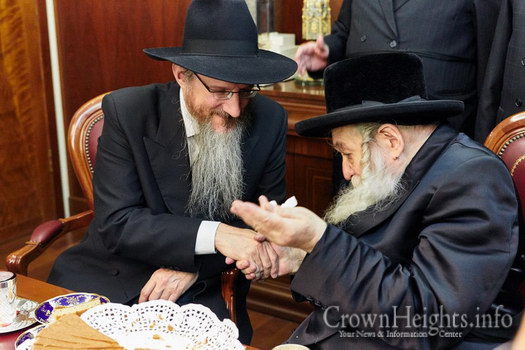 While on a short visit to Moscow, Russia's capital, the Rebbe of Chernobyl arrived on Friday to visit the Chief Rabbi of Russia, Rabbi Berl Lazar.
The distinguished guest was shown around the beautiful Marina Roscha Shul, where he saw the many Minyanim and Torah classes that were well attended by Russian Jews from a variety of backgrounds. From there he went on to the offices of the Chief Rabbi.
Profound words of Torah and stories of tzadikim were told during this visit. They also spoke about the deep connection and family ties between the Alter Rebbe and Reb Nochum of Chernobyl.
The Rebbe of Chernobyl expressed his amazement at the many activities of the Lubavitcher Rebbe's Shluchim in all of the Former Soviet Union and in Russia especially. Moscow alone boasts more than 30 Chabad Houses in various districts of the city. Under the auspices of Rabbi Lazar, thousands of students study at educational institutions, including yeshivas, Colels, girls schools and more.
During the visit, the stirring Niggun of "ach l'elokim domi nafshi" was sung, pulling at the heartstrings of all those present.
In conclusion to the meeting, the Chief Rabbi presented his honored guest with the book "Dedushka" (Grandpa in Russian). This was the way Chassidim secretly referred to the Rebbe when illegally sending letters to him during the difficult years under communist regime. Those very tear-filled years when they sowed, and today, thanks to them, we reap.