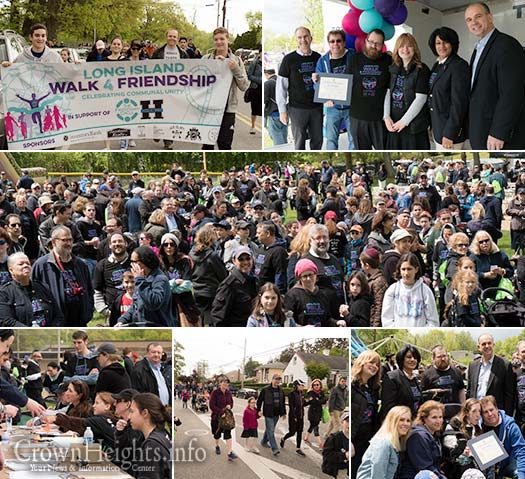 Photos by Gary Rabenko
On Sunday, May 15th, more than 500 people came together in West Hempstead, NY, to participate in  the 2016 Long Island Walk 4 Friendship. This celebration of communal unity was hosted by the Hebrew Academy of Nassau County and Chabad of West Hempstead.
The event connected a wide range of people across the community and raised over $50,000 to benefit the HANC Scholarship Fund and the Friendship Circle of Chabad West Hempstead.
Funds raised will:
support children and young adults with special needs through the Friendship Circle's innovative programming; AND
give more children the opportunity to receive an exceptional Jewish and secular education at HANC.
The day began with an awards ceremony, where the 2016 Ambassador Award was presented to Peri Finkelstein, a 16 year-old member of the Friendship Circle in West Hempstead, who was born with a rare form of Muscular Dystrophy. On January 24, 2016, Peri walked more than 1,000 steps to cross the finish line at the Miami Marathon in honor of Chai Lifeline, inspiring all those present — and many more — with her courage, energy, enthusiasm and spirit.
After completing a 1.5 mile walk around West Hempstead in their striking LI Walk 4 Friendship t-shirts, participants joined together for fun, food and celebration at a carnival complete with bouncing and climbing activities for the kids at the Echo Park Baseball Field.
Our special thanks and recognition to Rabbi Yossi Lieberman of Chabad of West Hempstead for leading the event, from idea to execution, to the West Hempstead community's respected and beloved Rabbis for joining in the event, and to the lay leadership at the local area synagogues for their proactive support. A  particular thank you to the corporate sponsors — Investors Banking, Jacobson Realty, Long Island Jewish Valley Stream Hospital, New York Equestrian Center, Touro Strength & Fitness, Two Minute Club — without whose generosity, the event would not have been possible. Thank you as well to all of HANC's principals for their support and participation, to the Town of Hempstead for their proactive engagement and assistance, and to the West Hempstead Police Department for making sure that the walkers were safe as they traversed the community. An extra special thank you to I & D Glatt of West Hempstead for providing the delicious BBQ for all the attendees at the event.
The success of the event was best stated by Rabbi Lieberman – "When there is cooperation among community organizations, the results are fantastic!" Rabbi Shlomo Adelman, Menahel of HANC High School, said: "A boundless spirit of achdus and support permeated the air as the community embraced two of its treasured local organizations — HANC and Friendship Circle. This unity that West Hempstead is famous for was on parade for all to see."