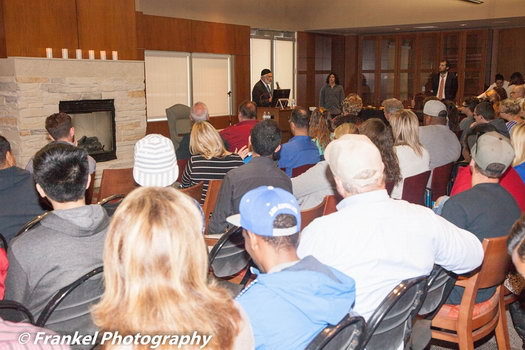 Hershel Frankiel survived the horrific events of the Holocaust. Students, faculty and staff at California State University-San Marcos (CSUSM) were lucky enough to hear this incredibly brave man tell his story of survival.
From The CSUSM Chronicle:
Six candles were lit during the event, in recognition of the six million Jewish people who lost their lives during World War II. These candles were used to remind the audience that they must never be forgotten.
Chabad, a Jewish organization on campus, put together the event for campus and community members as a way to remember and honor the victims and survivors of the Holocaust. President of CSUSM's World Insight organization, Moses Wosk, organized the event after meeting Frankiel at the Chabad West Coast Shabbaton, a three-­day event that took place at the Hilton in Carlsbad.
"Frankiel was very soft spoken. I wanted to hear more about his story and have other students experience his survival as well," Wosk said.
Although Frankiel and his family escaped to the United States when he was 13 years old, it wasn't until six years ago when Frankiel began to speak about his experience during the Holocaust.