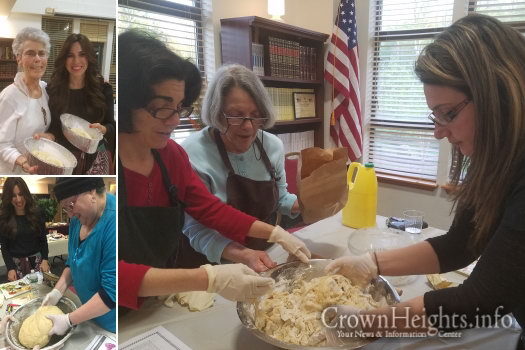 It was an exciting evening of learning, kneading, laughing and enjoying.
Close to 30 women recently joined a Challah Baking Workshop led by Chana Burston at Chabad of Orange County in Chester, NY.
Chana Burston, who co-directs Chabad of Orange County with her husband, Rabbi Pesach Burston, explained the spirituality of the dough and the commandment behind it through providing Kabbalistic insights.  
Chana Burston has offered many challah classes and cooking demonstrations throughout her years as leader of the Jewish Women's Circle.
Participants created dough from scratch and were taught a variety of tips and techniques.  Chana demonstrated how to make Challah napkin rings, chocolate and cinnamon swirl Challah, four braid challah, six braid challah and round challah.
All enjoyed sampling a variety of freshly baked challahs, along with salads and desserts.
Sandy Gamzon of Monroe said that she "loved the informative and delicious Challah program, and appreciate Chana Burston sharing her knowledge….I learned so much and my husband loved tasting the delicious Challah!"  Marina Deskin of Monroe said that she "appreciates the step by step instruction, and the many shared techniques and tips."
All participants received a Challah booklet featuring Chana's favorite Challah recipe, as well as filling and topping ideas.  For a booklet, email Chana Burston at Chana@chabadorange.com.
To learn more about the Jewish Women's Circle, log onto www.ChabadOrange,com or call 845-782-2770.