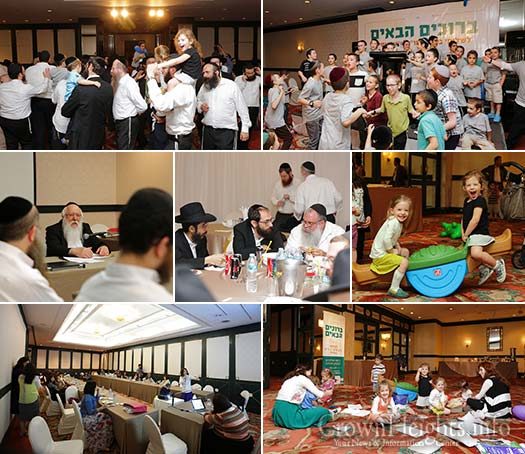 Shluchim to Asia Inspired at Regional Kinus
The 37 Shluchim families from across Asia that gathered this week in Thailand for the annual regional Kinus Hashluchim enjoyed three inspiration filled days. In accordance with the spirit of Hakhel, this year's Kinus was expanded to include men, women and children. The participants enjoyed Shiurim, workshops, Farbrengens and more.
In honor of Shnas Hakhel, during which the king would read from the Torah to the entire people, the Shluchim opened the Kinus with a joint study of a Sicha of the Rebbe about Shlichus, and then watched an hour long video of the Rebbe on the topic.
The study session was followed by opening words from Rabbi Moshe Kotlarsky, Vice Chairman of Merkos, about the importance and far reaching effects of Achdus among the Shluchim. Rabbi Kotlarsky also shared an amazing story about the Rebbe's Ruach Hakodesh.
Rabbi Kotlarsky is in close contact with the Shluchim all year round, and attended the Kinus together with his brother Rabbi Mendel Kotlarsky who works together with him to assist the Shluchim.
During the Kinus, sessions were held focusing on the development and efficient administration of a Chabad House, Kashrus in the Chabad House and beyond, Torah classes for beginners and advanced students, youth programming, cooperation among the Shluchim, and more.
In addition to the sessions and workshops, a number of Halacha classes were delivered by special guest Rabbi Yekusiel Farkash, a renowned Posek from Jerusalem. Separate Shiurim were given to men and women covering a range of topics related to life on Shlichus.
Parallel to the packed program for the Shluchim and Shluchos, their children enjoyed separate camps for boys and girls organized by the MyShliach team. The talented counsellors and fun packed activities gave the children a unique once a year experience that was greatly appreciated by their parents, the Shluchim.
"The intense three day physical and spiritual experience will be a powerful source of inspiration when we return to our Shlichus", said one of the participating Shluchim. "The opportunity for the Shluchos to meet each other strengthened the family-like camaraderie of the Shluchim families, and the once a year opportunity for the children to meet and interact in person with friends from the same background and values is also extremely important and will give them inspiration for the daily challenges they face".
The Kinus concluded with a Farbrengen that continued from Wednesday night until Thursday morning as the Shluchim drew inspiration and encouragement from each other to continue their Shlichus work.