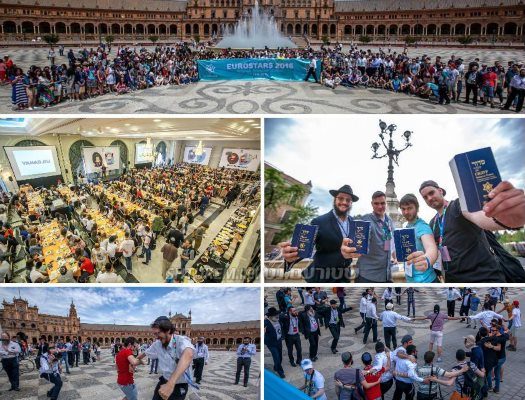 After their somber visit to the Auschwitz concentration camp in Poland on Monday, some 800 Jewish students from Russia, accompanied by several Chabad Shluchim – including Russia's chief rabbi Berel Lazar, continued on to Spain, where they visited historic Jewish sites from before the Jews were expelled from the country in 1492.
While touring a palace in the historic city of Seville, two members of the group, a young Jewish man and woman, announced their engagement.
A joyous celebration broke out right there in the square in front of the largest palace in southern Spain, with joyous singing and dancing and well wishes to the young couple.
The evening's dinner was converted into a festive affair, and all members of the group congratulated the young couple and wished them "L'chaim."
Rabbi Lazar blessed the couple on behalf of all the Jews of Russia – that their home should be filled with happiness, and should be set on a firm foundation of Torah and Judaism.
Photos courtesy of Shturem.net