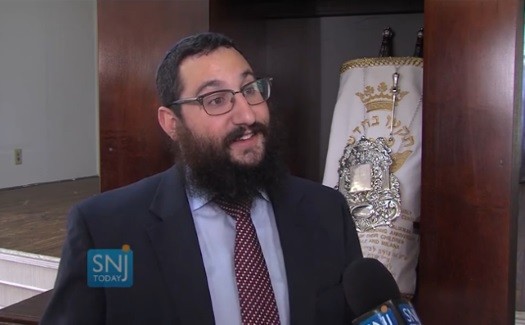 Rabbi Avi Richler, director of Chabad of Gloucester County, with the new Torah.
by Menachem Rephun – JP Updates
Congregants at Chabad of Gloucester County in Mullica, New Jersey, participated in a historic moment Saturday, as Rabbi Avi Richler read from a new sefer Torah for the first time.
The Torah was donated by Alexkandr and Svetlana Falikman of Brooklyn, to commemorate the couple's 20th anniversary, nj.com reports. The 300,000-word scroll traveled from Israel to Brooklyn, before reaching the synagogue. The Falikman's themselves are immigrants from Russia who arrived in the United States with little to their name. The couple decided that donating the Torah would be the most fitting way of celebrating their two decades of marriage.
"We commissioned the creation of the Torah for our friends in Gloucester County and invited the Chabad family to celebrate our anniversary with us," Alexkandr Falikman was quoted as saying in a prepared statement by Chabad, according to nj.com.
Rabbi Richler, who serves as the synagogue's executive director, explained that the Torah scroll's arrival is especially significant, as it parallels plans for the construction of a new synagogue on a 9 and a half acre lot. According to Richler, the Torah scroll "is really the foundation of the service," and "puts a belief into the community."
At the Shabbat service on Saturday, Richler told the Falikmans that "your impact on the community is going to go far beyond what you imagine."