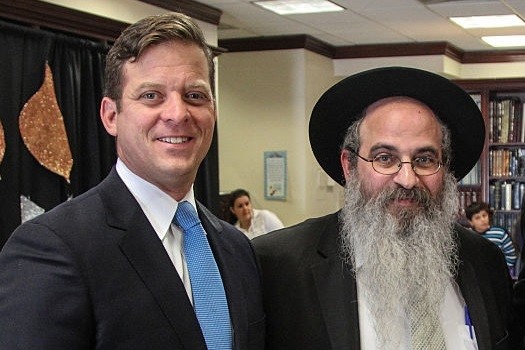 File Photo: Florida Lt. Gov. Carlos Lopez-Cantera with Rabbi Raphael Tennenhaus of Chabad of South Broward.
During a recent visit to Israel, Florida Lieutenant Governor Carlos Lopez-Cantera, long ambiguous about his religion, celebrated his Bar Mitzvah at the age of 42. The celebration took place at the Western Wall with a Chabad Rabbi.
From the Tampa Bay Times:
Nothing clears up the ambiguity of Florida Lt. Gov. Carlos Lopez-Cantera's religion like having a Bar Mitzvah.
Yep, at the not-so-tender age of 42, Lopez-Cantera — who once described himself in his house biography as Catholic — had a Bar Mitzvah at the western wall in Jerusalem last week while traveling with the Republican Lieutenant Governors Association. The Jewish rite of passage into adulthood typically occurs at age 13, but it's not unheard of for adults to have the ceremony if they didn't have one as a teenager.
Lopez-Cantera's wife, Renee, and mother are Jewish, while his father is Catholic.