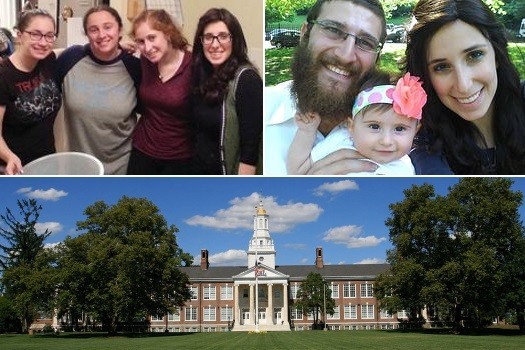 Rabbi Hersh and Fraidy Loschak, top right, direct Chabad activities (top left) at Rowan University (bottom).
Historic Event Unites Rowan Jewish Students and Faculty
From NJ.com:
Billed as "Shabbat for 120," 140 students and faculty filled a specially erected tent on the grounds of Chabad at Rowan University in Glassboro, NJ, on April 1 for a traditional Shabbat dinner. The historic event, which was sponsored by Chabad at Rowan and AEPhi, was the largest Shabbat dinner ever at Rowan and likely the the biggest ever Jewish event at the university.
Shabbat is the Jewish Sabbath — a day of rest that begins on Friday evening and closes on Saturday night. For those 25 hours, observers refrain from doing any work to focus on rest and reflection. Typically, Chabad at Rowan sees around 20-30 students each week at its dinner table.
The Shabbat dinner was attended by students, faculty, administration and alumni. Vice President Steve Weinstein, Professor Mike Weiss, Co-director of Chabad at Rowan Fraidy Loschak and Rowan alumnus Christina Spadoro spoke before the dinner. During the event, guests took part in an informal evening service and a traditional prayer over wine. They were then treated to a four course kosher, home-cooked style, Shabbat "family" dinner, and sang traditional shabbat songs.