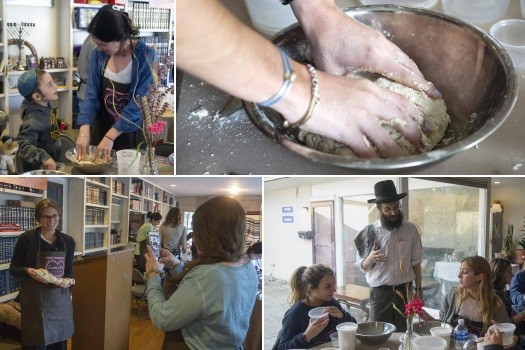 Chabad of Penn State University, under the leadership of Rabbi Nosson and Sarah Meretsky, hosted a Challah bake for the campus' Jewish community.
From The Centre Daily Times:
The term "challah bread," a traditional Jewish treat, conjures images of braided, oven-browned dough, with or without the poppy seeds.
But the challah is not actually the bread, Rohr Chabad Jewish Student Center Director Rabbi Nosson Meretsky said during the center's Mega Challah Bake on Sunday.
"Everyone always think that challah refers to the braided bread," he said. "Technically, it doesn't mean that.
"The challah is the chunk of dough you remove before you bake," he continued. "You can go to the store and find a box of matzah that says 'challah has been taken.' "
More than 20 people came to the bake, mostly Penn State students seeking to bake the bread for the first time. Individual containers of flour, sugar, water, oil, salt and yeast were set out in fives around several tables, each enough for a pound of dough.
The main thing to making the bread is the blessing, Meretsky said. After consecrating the dough with a prayer, each pound at the table provided a small piece of dough totaling about an ounce.