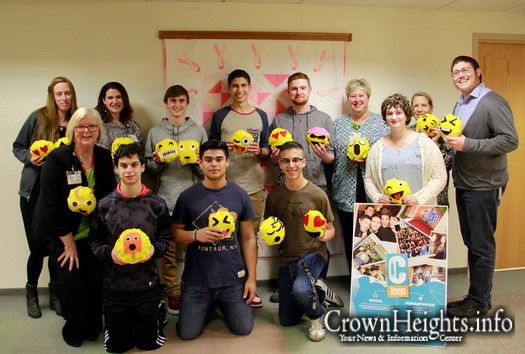 From the Hunterdon Review:
A group of young Jewish teens rushed out of school on Wednesday, March 16, and headed to the Hunterdon Regional Cancer Center (HRCC) to deliver packages. Chabad of Hunterdon County's Teen Network (CTeen) brought "emoji" pillows, which they had spent their Sunday designing, to the patients at the HRCC.
"There are many ways to donate time or money to patients suffering with this horrible disease," said Joshua Weinberg, a junior at Hunterdon Central High School and creativity director for CTeen. "We wanted to do an action tobring a smile to their faces. What better way than to actually give them a smile?"
Cteen is a network of local Jewish teens geared towards providing a platform in which teenagers can learn and experience true leadership – a group run by teens for the teens – and a forum to create community initiatives and do humanitarian work. The group, headed by directors Chana and Rabbi Shloime Greene, also has educational workshops throughout the year on topics such as "Appreciating Substance over Style" and "Kiss your Past Goodbye." CTeen has clubs at local high schools and is actively seeking schools interested in starting their own clubs.