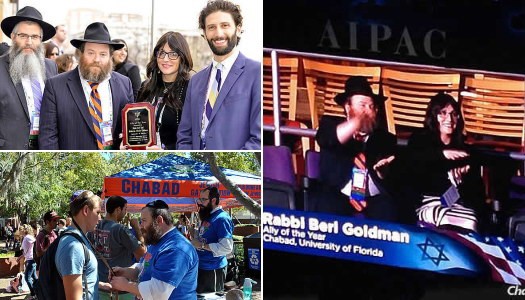 by Faygie Levy Holt – Chabad.edu
Chabad-Lubavitch emissaries who serve Jewish students at the University of Florida in Gainesville were presented with the "AIPAC Ally of the Year" award on Monday during the annual American Israel Public Affairs Committee conference in Washington, D.C.
Rabbi Berl and Chanie Goldman, co-directors of the Tabacinic Lubavitch-Chabad Jewish Student Center at the University of Florida in Gainesville, received the award for their accomplishments on "behalf of the U.S.-Israel relationship on campus." The couple believes that the honor belongs to a larger group of people as well, including their colleagues, Rabbi Aharon Chaim and Pessie Notik, and the students themselves.
"It's very humbling to receive this," said Rabbi Goldman, who pointed to the work of Chabad on Campus International and individual Chabad centers worldwide, which, he noted, "are at the heart" of building Jewish identity on campuses.
The Goldmans arrived in the nation's capital with a dozen students, whose trip to the annual pro-Israel policy conference was sponsored by Chabad of UF. Another 40 or so students from the university's "Gator for Israel" group were also on hand for the three-day conference, which draws thousands of people annually to hear from U.S. politicians, Israeli leaders, Middle East experts and more in an effort to gain needed advocacy tools to help support Israel.
"There is a strong anti-Semitic, anti-Israel movement on campuses today, and many Jewish students feel disarmed and threatened," stated Rabbi Goldman. "They feel attacked, and it affects not only their understanding and knowledge about Israel, but their involvement in Jewish life as well. We need to give them the right tools so they can be proud to be Jewish and be involved in Jewish activities."
Noting that all Jewish students are welcome at Chabad—regardless of their background, political views or other opinions—the rabbi said he and his wife work to provide a wide range of classes and study on Jewish topics that students might not have been exposed to before, such as a biblical perspective of Israel.
They also co-sponsor Israel-solidarity events, including a huge rally in October after a wave of terror attacks and stabbings in Israel, and right before many students traveled to New York for the annual Chabad on Campus International Shabbaton. More recently, they held a forum with a panel discussion on Israel and anti-Semitism on college campuses. This is in addition to their regular slate of Jewish holiday events, Shabbat services and meals, social programs and opportunities for Israel travel.
"We are on the front lines," said Goldman. "As shluchim [emissaries of theLubavitcher Rebbe—Rabbi Menachem M. Schneerson, of righteous memory], we have a responsibility to effect and empower students in a practical way," explained the rabbi. "Our job is to nurture them and to help them grow in their Jewish learning in order to enhance and empower them, and build a strong Jewish community at the University of Florida."