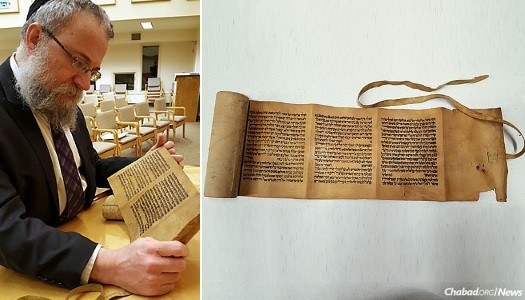 300-Year-Old Megillah to Highlight Maryland Purim
by Ronelle Grier – Chabad.org
Purim is a holiday commemorating courage and redemption, and what better way to celebrate than by reading a Megillah as steeped in history as the holiday itself. This year, Rabbi Sholom Raichik, director of Chabad of Upper Montgomery County in Gaithersburg, Md., is looking forward to reading the story of Esther from a 300-year-old Spanish Megillah scroll.
During a trip to Spain, a chance encounter in a souvenir shop led the late Jack Hurwitz of Bethesda—a longtime friend of the rabbi's—to a church, where he discovered the scroll, purchased it and brought it back to the United States. Hurwitz later gave the ancient scroll to his son, Donald Hurwitz, who graciously loaned it to Chabad to be used on Purim.
According to Rabbi Raichik, while extensive forensic testing has not been done, the scroll was examined by expert scribes. Their preliminary conclusion is that the Megillah is likely to be 250 to 300 years old and came from the Palma de Mallorca islands off the Mediterranean coast of Spain.
The scroll is written on deerskin parchment, which is different from the cowhide parchment commonly used to make Megillot today. Other scrolls with similar parchment and writing have been traced to the same area, which had a Jewish presence until the late 1700s, despite the expulsion of the Jews from Spain in 1492 by King Ferdinand and Queen Isabella.
The Megillah, which is read twice during the holiday of Purim, describes another attempt to rid an empire of its Jews in 356 BCE, when a decree was issued calling for the extermination of all the Jewish people in the Persian Empire, which then covered most of the known world.
The Megillah, or book of Esther, tells the story of a courageous Jewess named Esther who risked her own life to save the Jews from annihilation at the hands of the king's evil minister, Haman and the bravery of the entire Jewish people who clung to their faith and prayed to G‑d to save them from their enemies.
"Many people in our community are very excited about this Megillah, and are making plans to come to services during Purim to see the Megillah and hear it read," said Raichik, who will be reading the Megillah after Purim begins on the evening of Wednesday, March 23, and again on Thursday, March 24.
"The story of Purim is one of Jewish survival, and this Megillah scroll represents a personal story of survival through one of the most difficult times in Jewish history. Now for the first time in well over a century, this Megillah scroll will be read and tell us its unique story."